Crabtree Kitchen + Bar, a Crabtree brand, is a farm to table restaurant located just across the bay from Seattle in Poulsbo, Washington. The Crabtree's own and operate a family of restaurants and retail brands centered around food and drink including two restaurants, a chocolate shop, a liquor store, and a cattle farm. They initially reached out for help redesigning and architecting a new ecommerce website for High Spirits, their liquor brand, and once that site launched with success, they decided to proceed with an updated site for Crabtree Kitchen + Bar as well.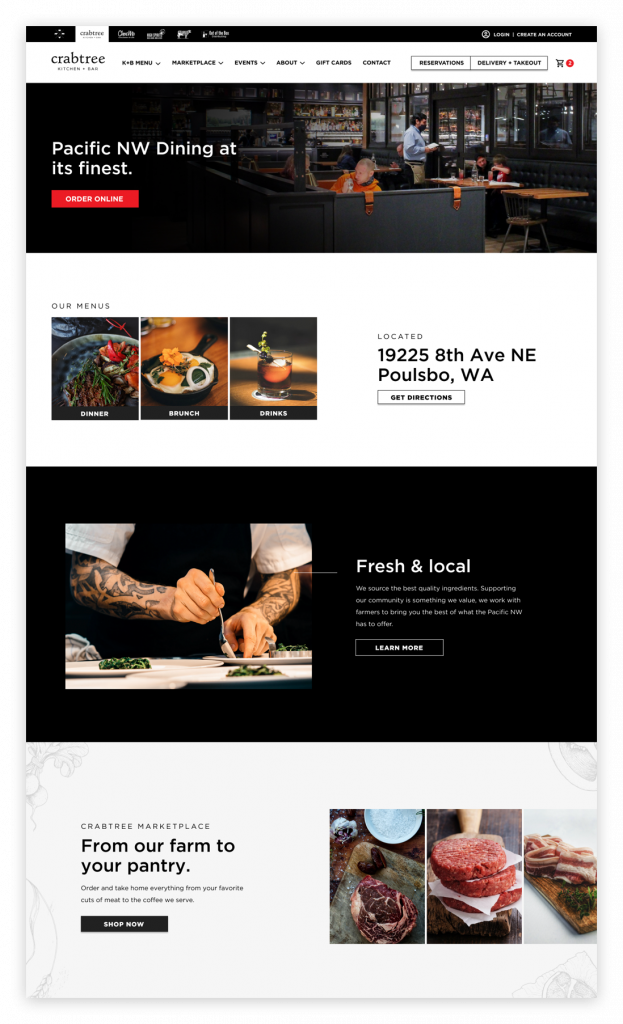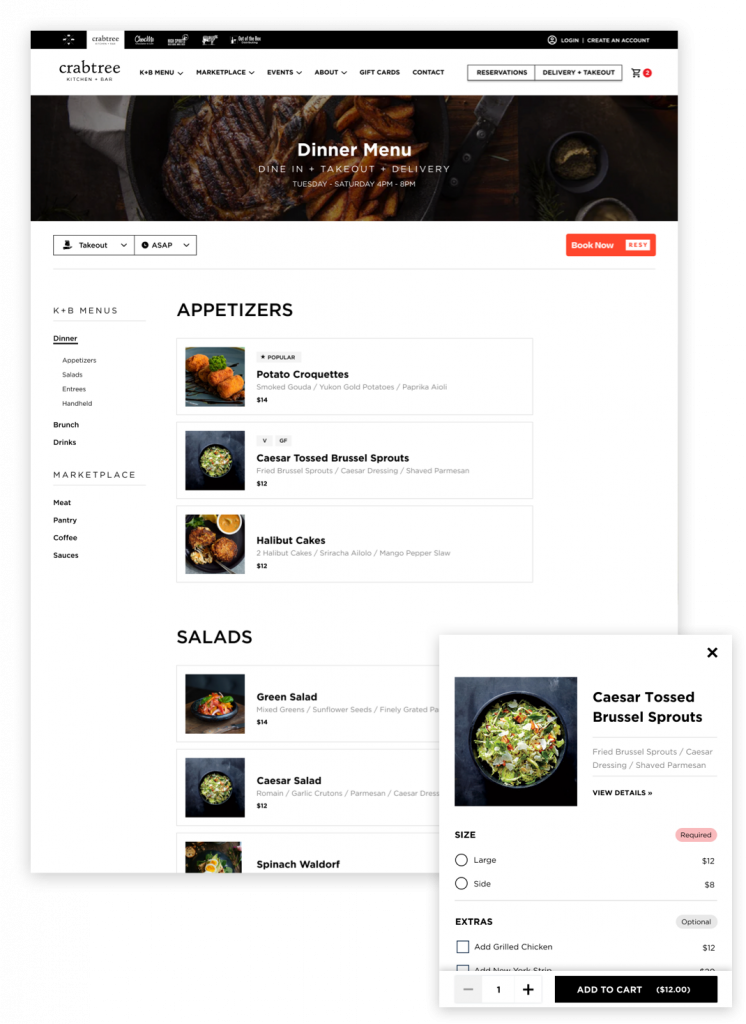 The Crabtree's wanted to unify the digital presence of their brands and make it easier for their customers to navigate between and purchase from all of their stores. They wanted Crabtree Kitchen + Bar to be able to show product recommendations from their other stores  and use a shared cart for a seamless buying experience. For example, if a user was ordering an entree on the Crabtree Kitchen + Bar site, they might see a few bottles of wine from High Spirits recommended that pair well with that meal.
• Brand Refresh
• UX/UI Design
• Development
Crabtree Kitchen + Bar's new Magento site brings together their multiple storefronts to improve UX and drive sales.
Online Ordering System
We built Crabtree Kitchen + Bar a custom online ordering system where users can select takeout or delivery and set a specific date and time. This allows them the flexibility to use their own delivery drivers and not have to pay third-party fees.
Multi-Domain Cross-Selling
The new site features smart product recommendations from Crabtree's various brands prominently featured on the product detail pages. These items are cross-sell or upsell items related to the product being viewed.
Shared Cart
Users can now add items to their cart from different Crabtree stores and checkout in one place with a single transaction, greatly simplifying the buying process for customers interested in cross-brand recommended products.
Unifying Navigation
In addition to creating a Crabtreebrands.com domain that links to their brand pages, we also added a unifying top level navigation consistent across their domains allowing users to easily navigate between sites.
VIEW MORE WORK
Business and technology are challenging enough, why add unnecessary BS? Move on up to the front and drop us a line.
LET'S CHAT