Commerce Enabled Dealer Portal Solutions for Manufacturers
Transform engagement with your distribution channels
For most manufacturers and OEMs, your dealer channel is the main source of revenue for your business. Our custom created Dealer Portal is chock-full of modern-day solutions to make your dealers more efficient and effective in selling and servicing what you produce. B2B ecommerce, interactive product configurators, ERP & CRM integrations, sales calculators, and an easily accessible library of marketing & training materials are just a few of the features that ATF's Dealer Portal platform provides.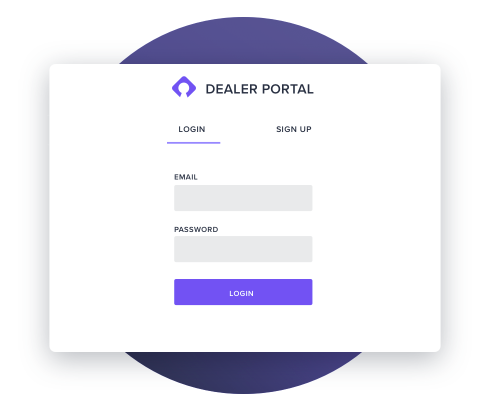 Save time and resources with self-service
Helping your dealers sell more and meet customer needs means giving them tools to excel, such as marketing collateral, configurators, pricing, technical specs and more.

Gain valuable insights into your portal's performance
Measure success, from high-level usage statistics to identifying popular content, regional & rep specific sales data, search terms, or identifying areas for improvement.
Your dealers can place orders large and small from their desktop or mobile devices - or for the more traditional, use the portal to negotiate and create orders to submit manually.
Best-in-Class B2B Commerce
Best-in-class ecommerce functionality means making complex, manual tasks simple & automated. Provide an easy way for your business buyers to purchase products & parts, track their invoices, or call in & have your internal team place orders on their behalf. And, if you haven't already, make the plunge and sell direct to your end consumers, without disenfranchising your traditional sales channels.
Order, Quote & Invoice Tracking
Buying Roles & Organizational Structures
ERP Integration
Account Registration & Financing Applications
Analytics & Business Intelligence Data
Multi-Site for Tailored Buyer Experiences
Unified B2B & D2C – even B2B2C
Sales & Marketing Support
Don't replace the human-to-human sales engagement, enhance it. Empower your dealer sales channel with weapons-grade tools, information, and efficiencies that make it easier for them to sell your products. Give them more face-time with the end-customers and less time fumbling through administrative tasks and outdated information.
Product Configurators
AI Targeted Content & Promotions 
Mobile Sales Enablement Apps
Digital Asset Libraries
CRM Integration
Email & Marketing Automation
ROI, TCO, & Custom Sales Calculators
Training & Service Support
Provide the resources to develop your dealer technicians, engineers and your end-buyers. From learning management systems, interactive product configurators, video libraries, and even educational materials delivered to the palms of their hand. Recruiting, hiring, on-boarding, and leveling up - everything your dealers need to level-up their staff in a highly competitive and scarce job market and support their customers post-sale.
Learning Management Systems
Self-Service Support Portals
AI Powered Live-Chat
Training Programs & Certifications
How-to Content Libraries
Workforce Development Toolkits
Warranty Tracking & RMA Support
Aftermarket Sales
Flexible deployment, highly customizable
ATF's Dealer Portal provides a modular theme, rich with out-of-box functionality, circumventing months of development from scratch. But it doesn't stop there. Extend your Dealer Portal with custom modules and integrations built-to-fit, and built to last.
Simplicity can be complex. Let us handle the hard stuff.