Founded in 1994, by Shelly and Marc Stave, Healthcare Supply was created to provide local dental practices in Palm Beach County, Florida with access to quality wholesale dental supplies. Nearly three decades later, the business was finding it difficult to evolve past adjacent markets, primarily due to the outdated operational framework it was relying upon to run the company, which had remained virtually unchanged since it was established.
Now under new leadership, Healthcare Supply was finally ready to modernize its business model in a bold and compelling new way with the expertise of Above The Fray.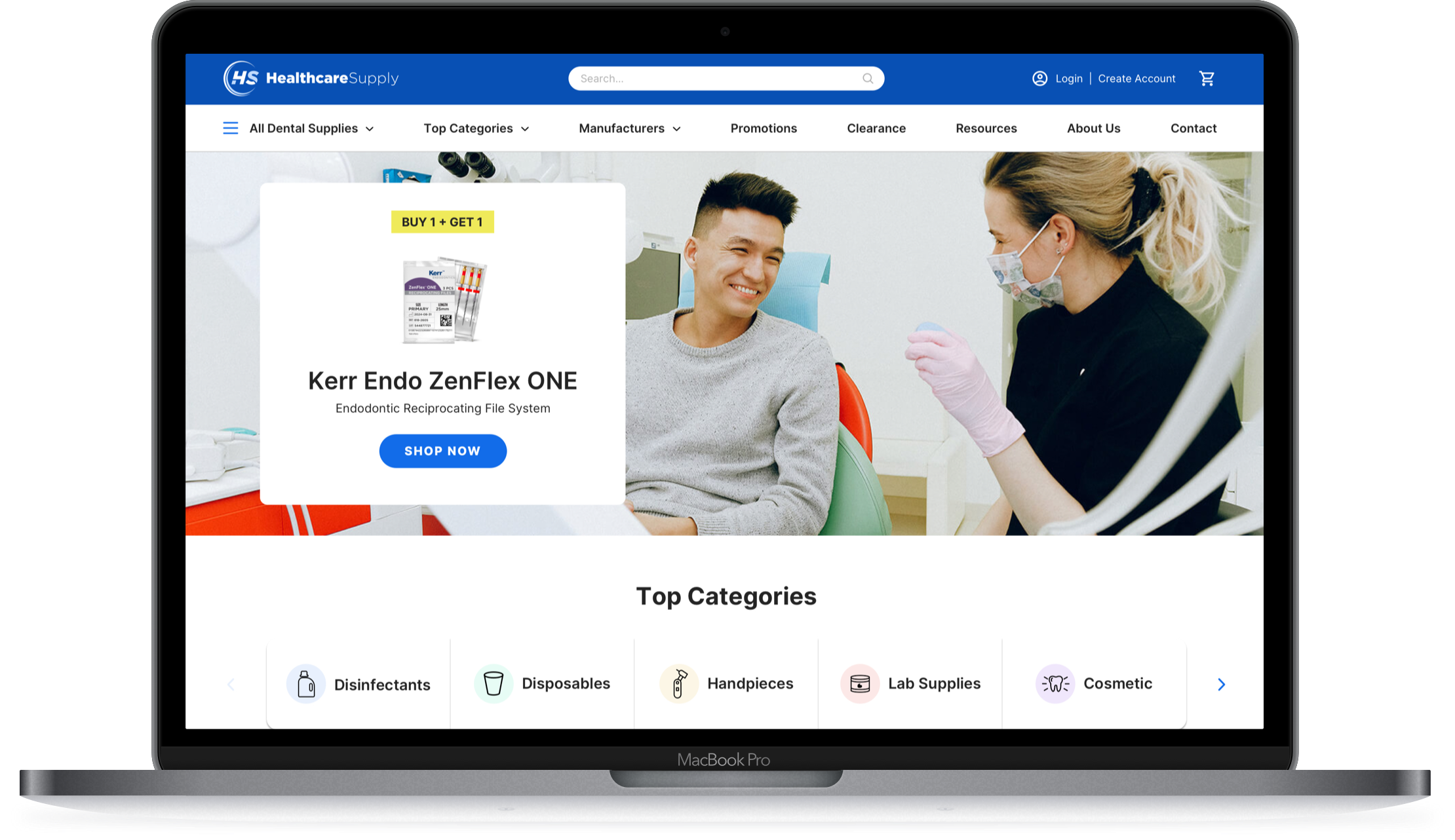 Healthcare Supply was operating using antiquated processes to generate revenue and site traffic. So, essentially, there was no infrastructure in place to build upon. The plan of attack for practically every action item needed to be initiated from scratch, including all of the re-branding and design work, as well as the marketing strategy. It was also crucial to find a new ecommerce system, along with the right software platforms to integrate seamlessly with existing systems in place  like Quickbooks. 
The chosen ecommerce platform needed to offer enough flexibility to enable sophisticated functionalities such as advanced registration workflows for professionally licensed B2B customers.
• Discovery • Logo / Branding • UI/UX Design • Development • Digital Marketing • SEO • Maintenance & Evolution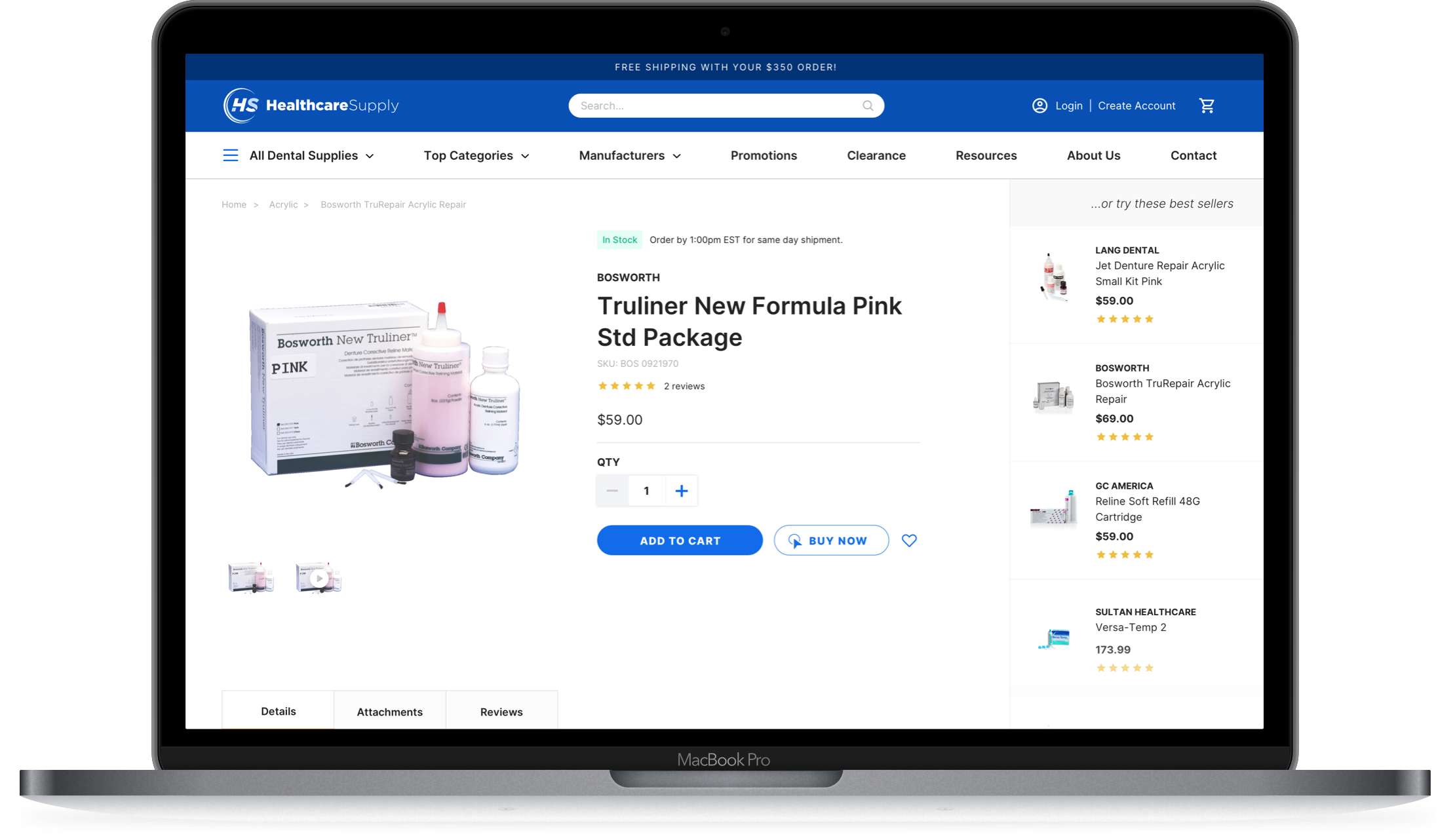 To actualize this robust new blueprint, Healthcare Supply required expansive technical, marketing and branding support. The company needed help to devise the right strategic approach, and offer the comprehensive oversight needed for every phase along the way.
Deluxe Mega Menu
Above The Fray custom designed and developed an expansive site menu to elegantly present the 31 primary product categories and 100+ sub-categories for over 12K+ items across the company's digital inventory.
Child Products
To enhance shopability, state-of-the-art product filtering and listing capabilities were implemented on product detail pages. The intention here was to seamlessly display parent and child products for site visitors—effectively minimizing the number of clicks required for customers to find the items they need and make a purchase.
Reordering Module
Built to simplify the path to purchase for repeat customers, Healthcare Supply's new website contains a convenient reordering module. Now, customers can instantly view all of their previously purchased products and make a reorder in a matter of seconds.
Promotions Page & Badges
To drive sales, Above The Fray designed a custom promotions page that easily allows Healthcare Supply to specify their desired promotion rules, then tag new products and collections into the sale section as needed.
To improve the company's visibility and organic search ranking for specific keywords relevant to their business, Above The Fray deployed a comprehensive SEO strategy. In the six months after launch, Healthcare Supply saw a 427% increase in organic clicks, a 2,276% increase in organic impressions, and a 5,813% increase in ranking keyword terms. Additionally, organic has become the top revenue generating channel for the rapidly growing website.

Increase in Organic Clicks

Increase in Organic Impressions

Increase in Ranking Keyword Terms
Read the full case study.
How Above The Fray successfully executed a one-of-a-kind digital transformation and systems integration for gearUP Sports, priming the sports league uniform company to cement its reputation as an innovative industry leader.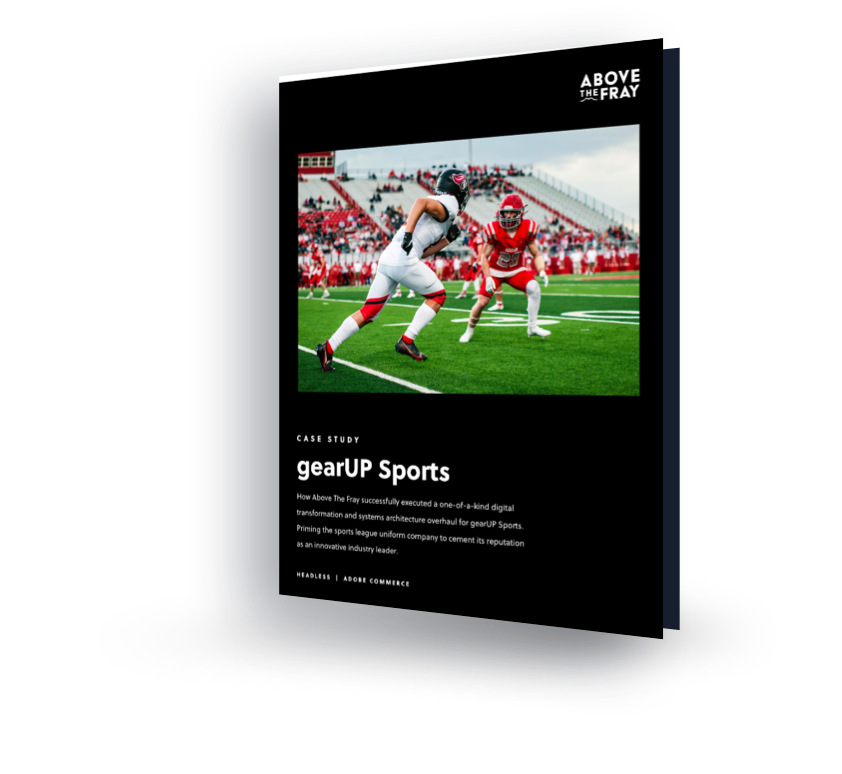 VIEW MORE WORK
Business and technology are challenging enough, why add unnecessary BS? Move on up to the front and drop us a line.
LET'S CHAT