A vertically integrated multi-state operator in the cannabis industry with super regional presence in Colorado & New Mexico, Schwazze is leading the way into the next era of cannabis. With a deep understanding of their brand identity and their goals in the cannabis space, the team at Schwazze came to Above The Fray looking to redesign their frankensteined corporate and investor relations websites to create a cohesive web presence representative of their brand.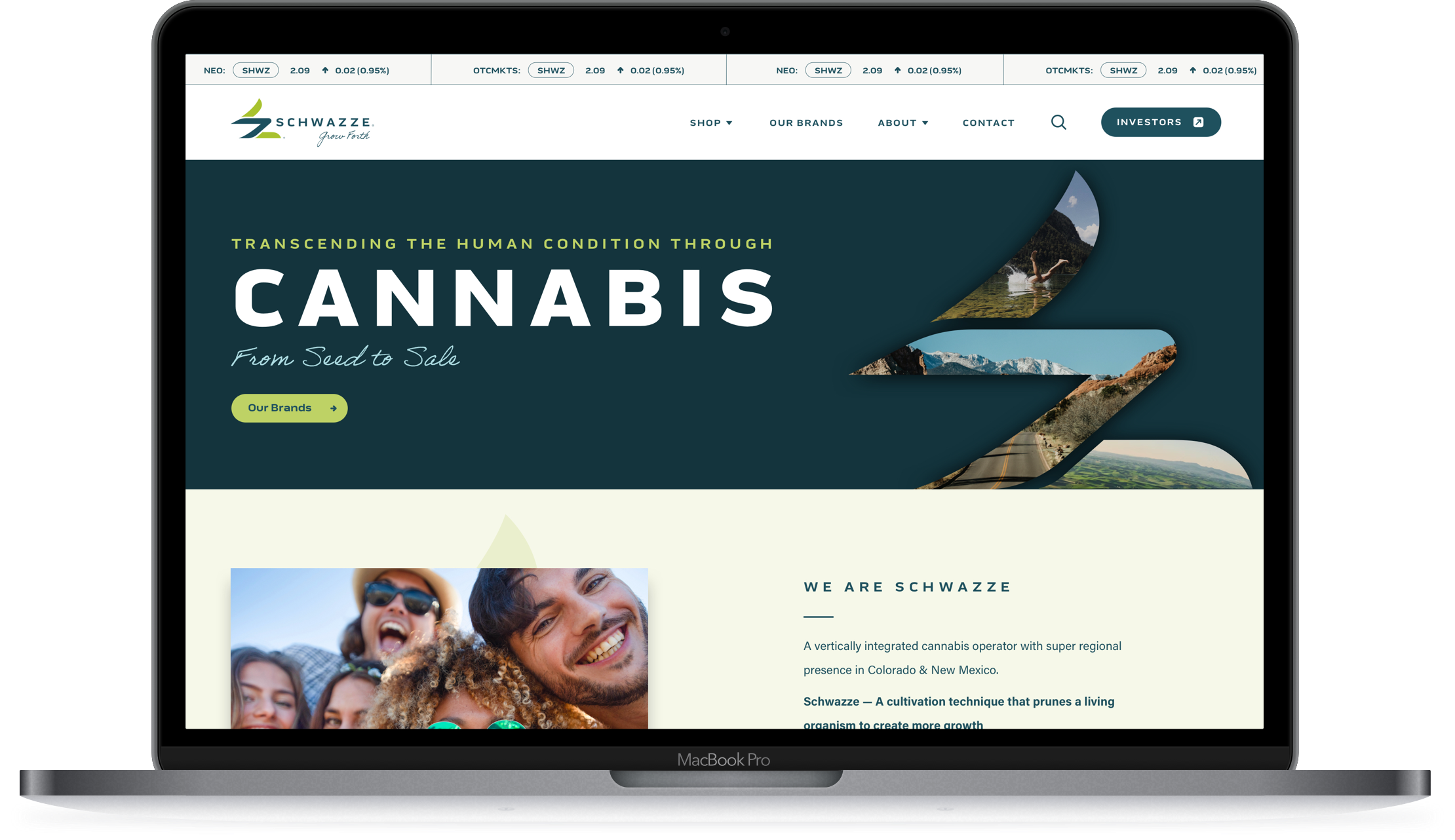 Schwazze wanted their corporate website and their investor relations website to have a cohesive appearance and voice. The existing sites were frankensteined together haphazardly and there were a number of different stakeholders for each site that needed to weigh in on the new website's desired look, feel, and functionality. Additionally, Above The Fray was asked to partner with two other companies on the project, an IR consulting company with expertise in legal and regulatory requirements for Investor Relation websites and a separate development company. Above The Fray was tasked with leading the project from start to finish, developing user stories, creating a cohesive design, developing copy for both sites, and engineering oversight to ensure their external development team's build matched the user stories and final design.
• UX Strategy • Brand Integration • UI Design • SEO Focused Copywriting • Engineering Oversight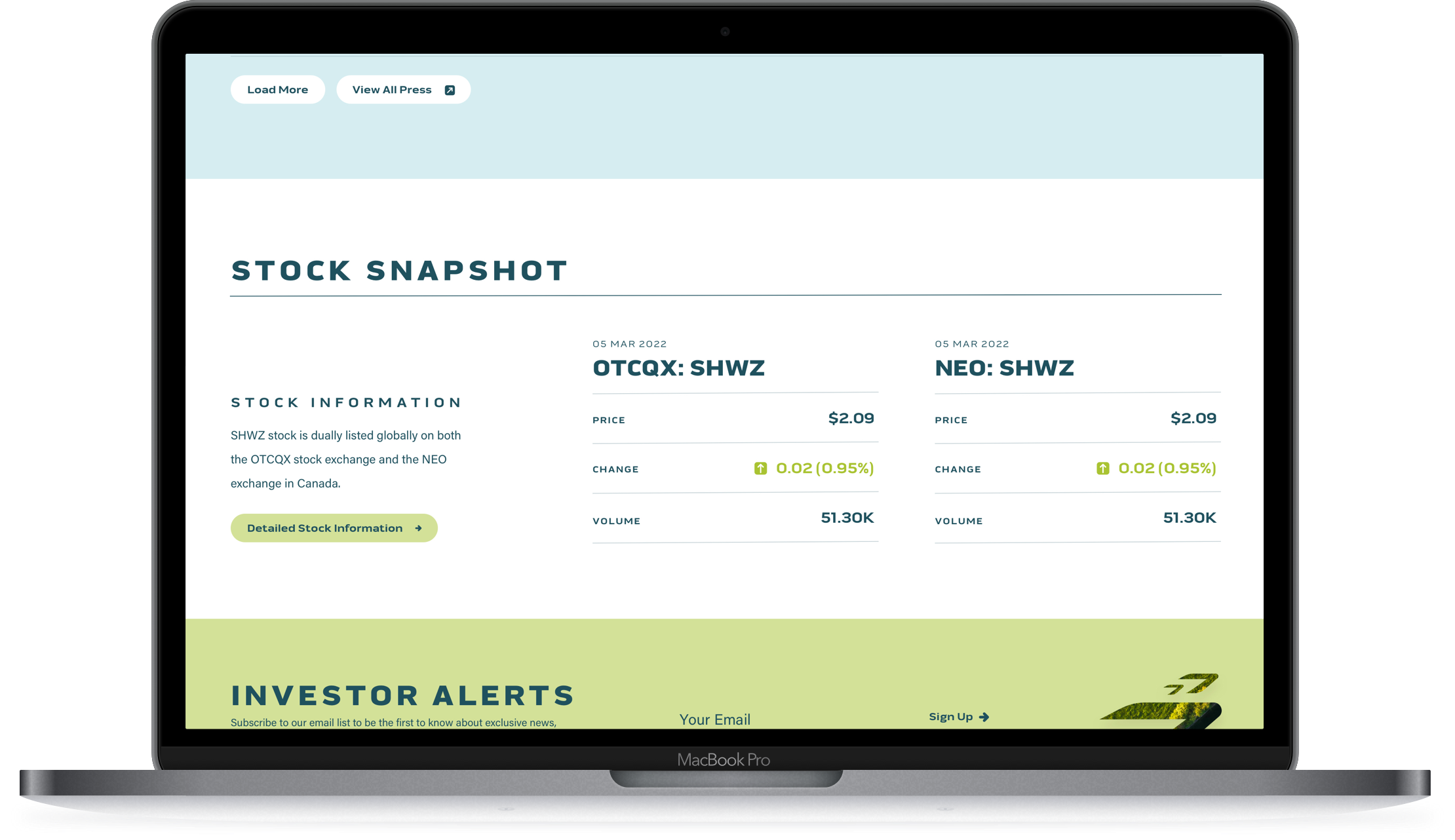 The Schwazze corporate and investor relations sites were designed to showcase their brand identity, the scope of their house of brands and the breadth of their growing footprint as a leading cannabis MSO.
Age Gate
We designed a multi-step age gate verification to meet regulatory requirements ensuring that all visitors to the sites are at least 21 years old and agree to the terms and privacy policy. The second step on the age gate lets users select either the corporate site or investor site to quickly and easily navigate to the content they need.
Brand Architecture
As the parent company of eight distinct retail and wholesale sub-brands, it was important to be able to highlight each brand and link out to their respective websites so Schwazze visitors could learn more about their house of brands.
Executive Bios
One of the differentiators of Schwazze in the cannabis space is the diverse leadership team and the wealth of experience they bring from their unique backgrounds. We highlighted that competitive advantage with a new bio page featuring a fresh look and information about the experience of the executive and senior leadership teams.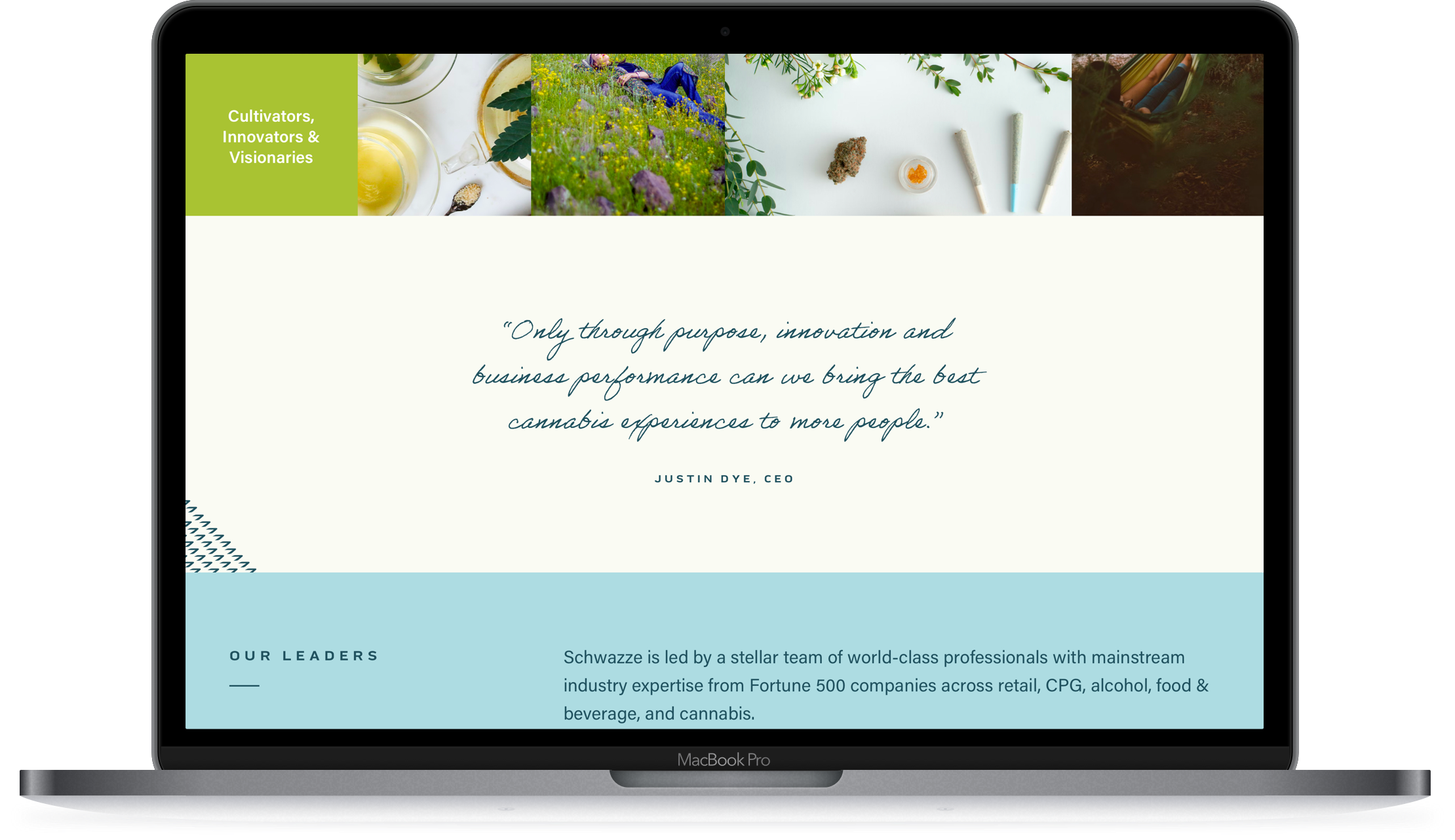 These are the stats 1 month post launching the new site:
Complete organic traffic recovery
Ecommerce conversion rate increased
VIEW MORE WORK
Business and technology are challenging enough, why add unnecessary BS? Move on up to the front and drop us a line.
LET'S CHAT