The Best SEO Apps for Shopify Ranked
Looking to increase organic traffic on your website, but don't know where to start? We round up four of the most popular SEO apps for Shopify users so you can enhance landing pages, automate problem-solving, and improve your site ranking. Learn all about the best free and paid SEO apps for your business here.
It's no secret that search engine optimization is one of the most important marketing strategies, especially in ecommerce where attracting new customers is vital. Ranking in the first few organic positions on search engine results pages (SERPs) leads to higher conversion rates and creates lasting value for your store at a low cost. But how do you do it? With the slew of SEO apps available on the market, finding the one tailored to your needs can be a challenge. That's why we've rounded up some of the most popular SEO apps for Shopify users and detailed their features, benefits, and pricing plans to help you figure out the best plan for your business. Take a look at these apps below.
1) AVADA SEO: Image Optimizer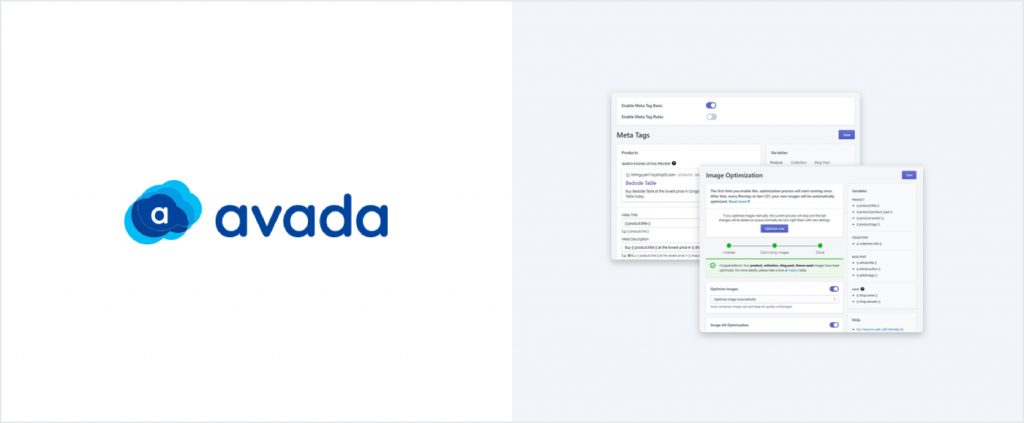 Avada SEO: Image Optimizer is an app that focuses solely on improving image quality and optimization for your website's blogs. Through the app, you can easily create meaningful and engaging written posts containing high-quality images without sacrificing your website's speed and overall structure. It also allows you to reduce an image's body weight without changing the actual quality of the final picture. This is ideal for Shopify websites that rely heavily on written content to rank.
In addition, Avada also has some distinctive features such as automatic optimization for meta titles and descriptions. That way, you won't have to manually update every page one at a time. 
Key Features
Image ALT tag optimization

Image optimization

Site verification

Google structured data & Search Console integration

Automatic meta title and description optimization

Redirection to 404 pages

Product page SEO analysis

Improved website loading speed
Pricing: Avada SEO has a standard free plan that includes image optimization for up to a total of 50 images each month. 
They also offer a Pro plan at $29 per month which includes unlimited Alt image optimization, SEO analysis, site verification, and more.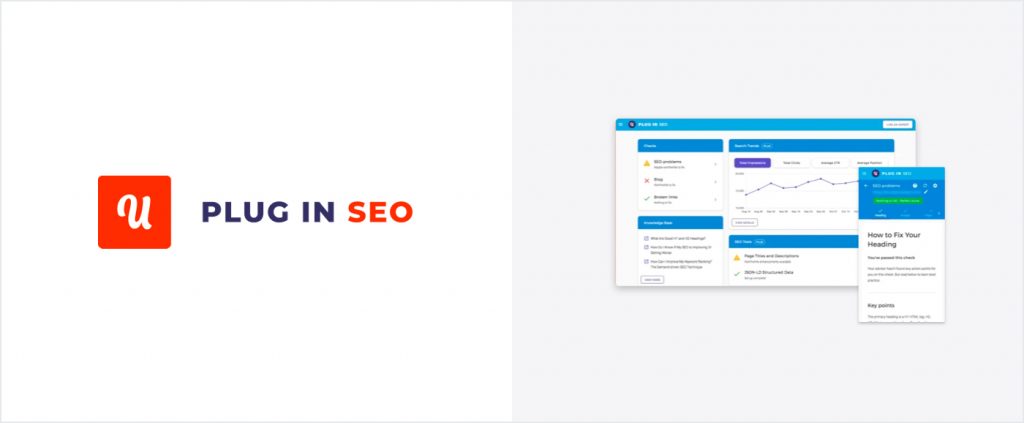 Plug In SEO is known as the All-in-One Shopify app: it has features for driving traffic to your website, enhancing search engine rankings, fixing common website errors like broken links, as well as automatic SEO health checkups. It allows websites to efficiently manage pages and optimize them for search engines; the app has a handy feature for bulk-editing meta descriptions and titles for product, blog, and collection pages that can save precious time by editing 10, 100, or 1000 pages in a single pass. It also drives more traffic to your store by analyzing and suggesting the best keywords to use, utilizing a comprehensive JSON-LD schema markup, and giving you automatic periodic SEO health checks.
Perfect for both beginners and seasoned merchants, Plug In SEO boasts an easy-to-use interface so optimizing your website doesn't become a chore. It also offers free and easy to follow SEO training videos to supplement or refresh your knowledge of the basic and advanced SEO practices.
Key Features
High-traffic keyword suggestions tool

Fixes headings, ALT tags for images, and broken file names

Google Search Console integration

Periodic SEO health check audits delivered straight to inbox

Automatic 404 detection

Provides bulk templates for meta titles & description

Comprehensive JSON-LD schema markup

Easy-to-follow educational videos on SEO

Provides support for blog, product, and catalog pages

Dynamic and upgrades as search engines change

5-star rated customer support

Integrates with Google, Bing, Langify, Locksmith, Search Console, Judge.me
Pricing: You can get Plug In SEO for free under their standard plan which features unlimited SEO and speed problem checks, a broken link checker, and code fixer. The app also offers a Pro plan at $20 per month where you can utilize all of its features, plus gain access to premium support and educational videos.
3) Booster SEO & Image Optimizer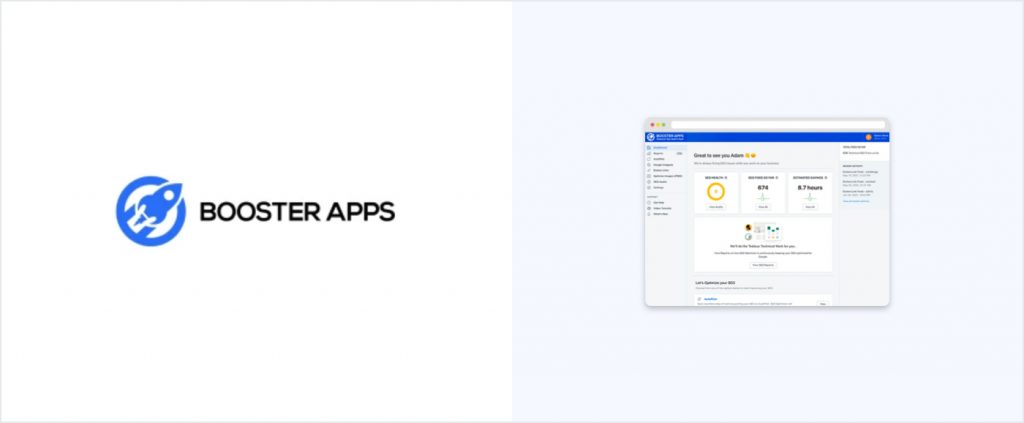 Worried about spending too much time manually generating meta tags, building your sitemap, and doing all the heavy-lifting to get more traffic? We recommend Booster SEO & Image Optimizer, another all-in-one app for Shopify managers. Apart from the key features like automatic meta tag optimization, image size compression, and weekly SEO health audits, Booster SEO also gives you access to 24/7 customer support so you're never alone in solving complex issues.
Perhaps the biggest selling point of this app is the AutoPilot feature. The AutoPilot feature does exactly what one would expect; efficiently choosing the best meta tags for your website without overwriting already existing content. The highly flexible feature also allows you to override certain pages, descriptions, and titles should you choose to customize them on your own. It also does not delete the tags set by Shopify, but rather creates new ones and stores the old in Shopify admin.
Key features:
Time-saving optimization

Highly flexible AutoPilot feature that generates optimized meta tags

24/7 SEO customer support

Ensures meta tags are not only optimized to rank, but to convert

Automatically builds and submits your store sitemap to Google

Guarantees that each page of your website is crawled and indexed by Google

URL keyword optimization tool

Image size compression

Improves on-page search engine optimization

Weekly SEO health checks
Pricing: Booster SEO & Image Optimizer offers a three-tiered subscription plan: Free, Pro, and Premium. The regular plan is free of charge and includes three features: alt text optimization, unlimited image sync, and weekly image checks. For a $34/month Pro plan, you get complete SEO features and AutoPilot fixes, while the $64/month Premium subscription gives you the full set of features listed above.
4) PageFly Landing Page Booster
It's no secret that a persuasive landing page translates to conversions. Maybe you're having trouble writing a blog that is visually appealing, functional, and traffic-driving at the same time; or perhaps you've lost a few customers to a slow-loading product page. PageFly Landing Page Booster is an app that optimizes both the visual impact of your pages through eye-catching elements like animation, slideshows, parallax video, pagination, countdown timers and more.
Further, PageFly enhances a key part of search engine optimization: page speed. Through the app, you can automatically fix issues that result in slow loading pages, such as heavy images, server errors, and running multiple applications at the same time. The convenient Lazy Load feature speeds up loading speed by around 10-30%. It also employs a "mobile first" design that tailors website pages to mobile browsing in line with increased mobile traffic across Shopify platforms.
Key Features
PageSpeed optimization

Intuitive drag-and-drop app design

Adapts to multiple Shopify 2.0 themes

Comprehensive Element library that includes holiday templates, animation, parallax videos, and more to persuade customers and boost conversion rates

Utilizes marketing tactics like the "fear of missing out" effect to optimize conversion rates

Support for sales landing pages, coming soon pages, about us pages, contact us pages, blog posts, and more

Global styling

Multilingual support

Mobile page support

24/7 live chat

Integration with Bold Bundles, Ali Reviews, AfterShip, PushOwl – Web Push, Klaviyo Marketing, Facebook Pixel
Pricing: With PageFly, you can choose between four different subscription plans:
Free.

The free plan is a comprehensive subscription that includes all features, plus 3 history versions, 1 page per type, and page analytics.
Silver.

The first paid tier costs $19 per month and includes all features, plus 10 history versions, 20 regular pages, and a 2-page limit for other landing pages.
Gold.

In addition to increased save sections and history versions, the Gold subscription plan offers 5 homepages and 5 password pages each, as well as a 30-page limit for other types. You'll have to pay $39 per month to upgrade.
Platinum. The highest tier is Platinum, available at $99 per month. This plan features the most functionality, including unlimited save sections and unlimited pages as well as 50 history versions.
Need assistance with choosing the right Shopify SEO apps for your business or want to take your SEO to the next level with an experienced digital marketing team? Reach out to us and we'll be happy to help.