How To Improve Your Ecommerce Search Algorithm
One of the most important aspects of a successful ecommerce business is having a user-friendly website. It's no surprise — research shows online stores that allow you to search for products are much more likely to generate sales. If people can easily find what they're looking for with you, then they won't need to look anywhere else. 
You know you have what your customer needs. It's all about presenting it to them. That's where the ecommerce search algorithm comes into play. 
Site search is a vital part of any ecommerce website. While your visitors will only be able to see the search bar, there is a lot of work that goes into configuring it properly.
The importance of the search algorithm in ecommerce
Google has set the standard for search as a whole with a quick and easy search experience. Now, most users expect the same efficiency from other websites they visit.
This holds true especially for ecommerce stores where drawing in customers is the name of the game. If you can't provide what they're looking for right away, chances are, they'll look for another website that can. 
By configuring your ecommerce search algorithm to be more flexible and user-friendly, you'll keep the attention of customers and at the same time make your website easier to navigate. The customer gets what they're looking for, and so do you. It's a win-win for everyone. 
What's involved in setting up a search algorithm
There's a lot that goes into search algorithm optimization. You can't just tweak a few numbers, press a few buttons, and call it a day. Setting up site search requires data analysis, market research, and closely following best practices.
That's what makes Magento 2 so great. Its native search engine is easy to configure, even without too many additional plug-ins or extensions. Anyone, regardless of their history with website development, can maximize the accessibility of their online store to provide a uniquely fast, highly convenient experience for their customers.
In this blog, we'll be covering the best native settings for Magento 2 users and how you can improve them with the help of third-party solutions. Let's get started.
What to improve in your site search
It's important to outline what you're trying to achieve when improving your search settings. Some key factors to consider are:
Relevance of results

— It's important to deliver the most relevant results on the first try to gain consumer trust.

Spelling suggestions

— Customers are only human, and anyone can make spelling mistakes. It's important to have a search server with a high tolerance for misspellings in order to avoid losing potential customers. 

Synonyms & recommendations

— Synonyms are a foolproof way to lead your customer to the product they're looking for, even if they don't use the exact verbiage. An example shown by Magecom is setting "bicycle" as a synonym for "bike" if the latter is not as common. Recommendations are related products that show up when the customer's query yields no results. They're a way to keep your customers browsing even when they don't find exactly what they're looking for.

Autocomplete

— One way to enhance search speed is by having suggestions show up at the first few characters entered in the box. This time-saving feature helps the customer get right to the product they need without going through too many search results.
Configuring the Magento 2 native search settings
There are a few key changes found in the new version of Magento 2.x. For the Community Edition of Magento 2, you'll find support for MySQL. 
However, if you're running a mid-to-large ecommerce business, then you might already be using the Enterprise Edition instead of Community. There are plenty of newer features to be found in the updated Magento 2 Enterprise Edition. These include:
Magento 2 Enterprise Edition compatibility with elasticSearch (previously Solr), an open-source search and analytics engine

Options to use Elastic, Solr, or MySQL are provided for back-end developers
Elasticsearch is an incredibly powerful open-source real-time search and analytics engine that is perfect for large databases with a prolific catalog and hundreds of real-time visitors. With Elasticsearch, you're getting scalable search and support for multi-tenancy.
Here's how you can configure Magento's native settings along with elasticSearch.
#1: Optimizing your native search settings
The first thing you'll need to do is configure the general search settings. Head over to Stores > Settings > Configuration. Select Catalog on the left panel then open Catalog again. Upon expanding Catalog Search, you'll be greeted with the following page

As the site admin, you are given the following options to better your site search:
Define minimum and maximum query length

Limit the number of popular search results to cache

Set a maximum number of search results to display via the Autocomplete Limit

Enable or Disable EAV Indexer
Even without the help of third-party solutions, you can still optimize your native search settings with the options given above.
#2: Setting up your elasticSearch connection
Set up your Elasticsearch connection. Most of these settings are preconfigured upon installation of Elasticsearch, including the options for Search Engine, Elasticsearch Server Hostname, and Elasticsearch Server Port. You can enable an HTTP authentication prompt by selecting 'Yes' to the Enable Elasticsearch HTTP Auth setting.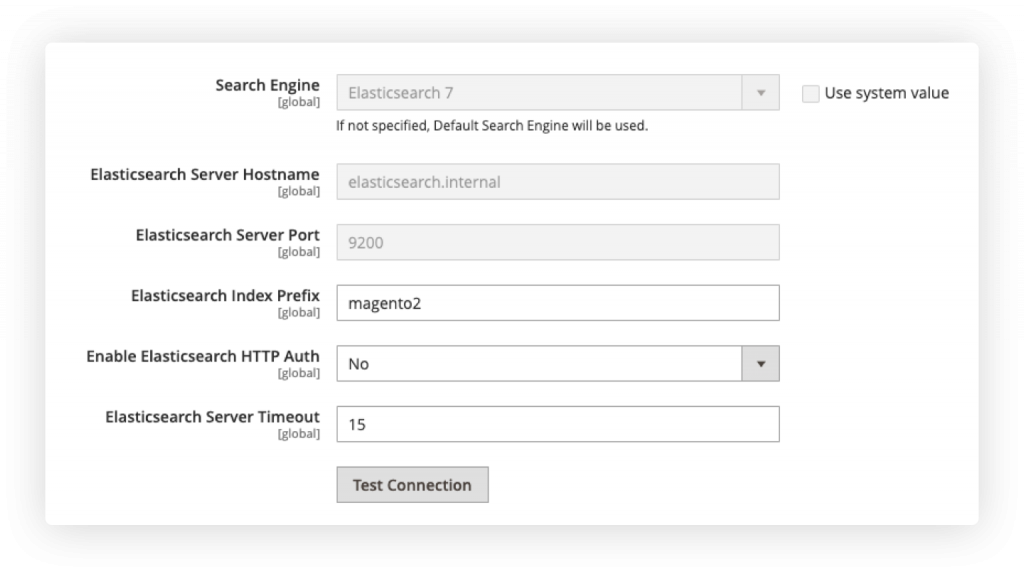 #3: Recommendations and suggestions
Next, set up your search suggestions and recommendations. By optimizing your search suggestion settings, you're helping the customer better navigate your website's catalog without going through too many hoops. It saves time and gains your visitor's trust. 
Recommendations show up when the user's queries show no results, while suggestions help in the case of spelling errors. Set the Enable Search Recommendations option to Yes, then enter the desired number of recommendations to offer. 
Additionally, if you want to display the number of results your search finds for each recommendation, you can enable that too. Simply set Show Results Count for Each Recommendation to Yes.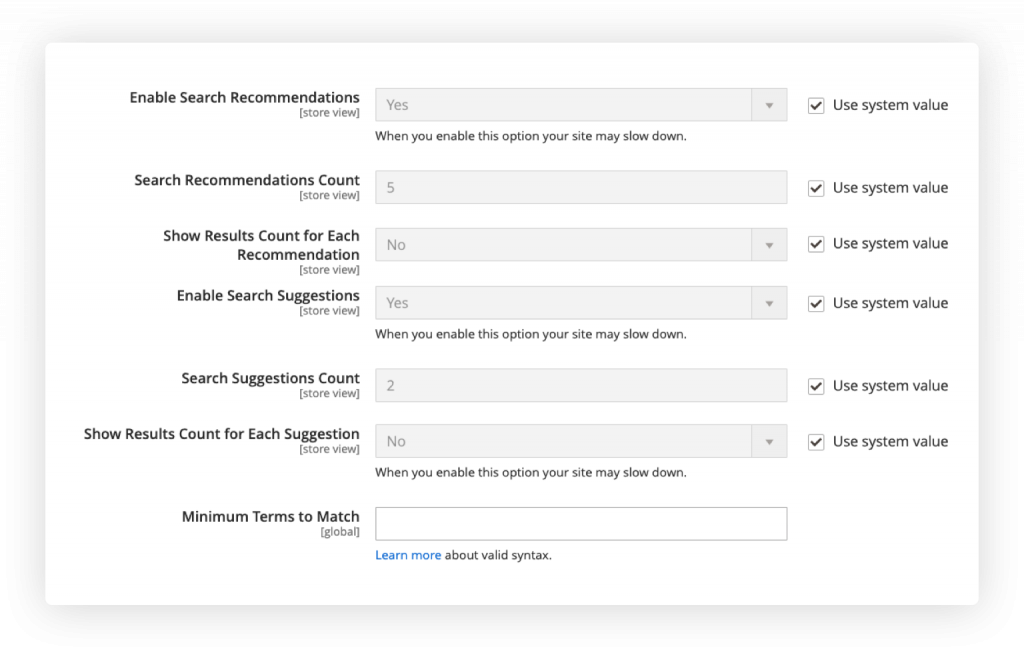 #4: Managing search terms and synonyms
Now that you've configured your general search settings, you can move on to managing synonyms. Search terms and synonyms are great tools to maintain the flow of your catalog. All of the settings, including adding search terms and adding new synonym groups, can be accessed in Marketing > Search Terms.
Configuring the Magento 2 native search settings
Magento's native search is by far one of the most powerful and easiest to manage. However, there are still plenty of areas it can improve upon — especially if you're running an enterprise business with hundreds to thousands of real-time searches per second. 
In this case, a third-party solution can help your website handle the volume.
#1: Solr
With Solr, you're getting a wider array of search options that can get your website where it needs to go. This high-performance, open-source search platform has functions for full-text search, hit highlighting, and built-in security, ideal for websites high in traffic.
#2: Sooqr
If you're looking into paid services, Sooqr is well worth every penny. Perfect for high-traffic online shops, the service boasts an extremely fast search feature for online stores with plenty of search hits a minute without bogging down the website. Apart from this, you can easily keep track of patterns in your visitor's searches to gain insight.
#3: Sphinx
Another wonderful open-source search server is Sphinx, which is another name for the SQL Phrase Index. This third-party solution boasts high relevance and flexibility in managing spelling variations, synonyms, and abbreviations, making it perfect for websites that are high on full-text searches.
Magento 2 offers a wide variety of features with its native search settings. By optimizing them to suit the needs of your business, you're showing the customer that your company has what they need and gaining their trust over time. However, these basic features can only get you so far. As your business grows, you may need more help managing the volume of searches. Adding third-party services can help you perfect your search algorithm and manage a high influx of real-time searches. 
Have questions or need further assistance with optimizing your Magento-based ecommerce website, don't hesitate to reach out.