10 Brilliant Email Marketing Campaign Examples for Ecommerce Brands
The key to crafting email marketing campaigns that people love to engage with is simple: be intentional, consistent, and patient.
The hard truth is, it's far easier said than done — especially in scenarios where you're pressed for time or resources may be limited. Still, there's no way around it: if you want to be successful at email marketing, you need to prioritize the experience you're looking to create for your audience every time your emails hit their inbox. 
When done thoughtfully, and to scale, email marketing is an incredibly strong revenue and engagement generating channel that empowers companies to achieve a number of core business objectives at a relatively low cost. Did you know that on average, email drives an ROI of $36 for every dollar spent, higher than any other channel?
Given the optics, the opportunity to make a significant impact is immense. But what exactly makes an email marketing campaign effective? One word: relevancy.
How to: Build Iconic Email Marketing Campaigns
The more specific you are about who your emails are for, and the value you're looking to provide for your recipients, the better they will perform. Nothing is more passé (and dare we say lazy) than the spray and pray approach marketers often take by preparing one email for everyone on their list and hoping their marketing goals will just magically fall into place. 
Savvy email marketers know the value of using segmentation to deliver the right emails to the right people at the right time. And, that it's just as important to understand why you're emailing people on your list in the first place. As a general rule of thumb, every email you send should have a designated purpose and clear focal point; whether it's to drive sales, spur engagement, retain feedback, or merely to deliver text-based alerts and other pertinent information. 
A strategic way to do this is to build dedicated templates for each of your emails depending on the type of email you're sending such as: 'buy me,' 'click me,' and 'read me' emails, to name a few. The design layout of each should coincide with the goal of the email communication to make it easy for your subscribers to complete your desired call-to-action be it read more, shop now, learn more, etc. 
The best email campaigns are ones that clearly stand out amongst a crowded inbox, and creatively deliver interesting subject lines, preview text, concepts, and visual assets that perpetually persuade people to interact with the sender. 
Here are ten powerful examples of email campaigns done right.
10 of the Most Compelling Email Campaigns We've Seen Yet
1. Subject: Our Friendship Comes with Benefits
A Retention / Re-engagement Campaign from Snap Kitchen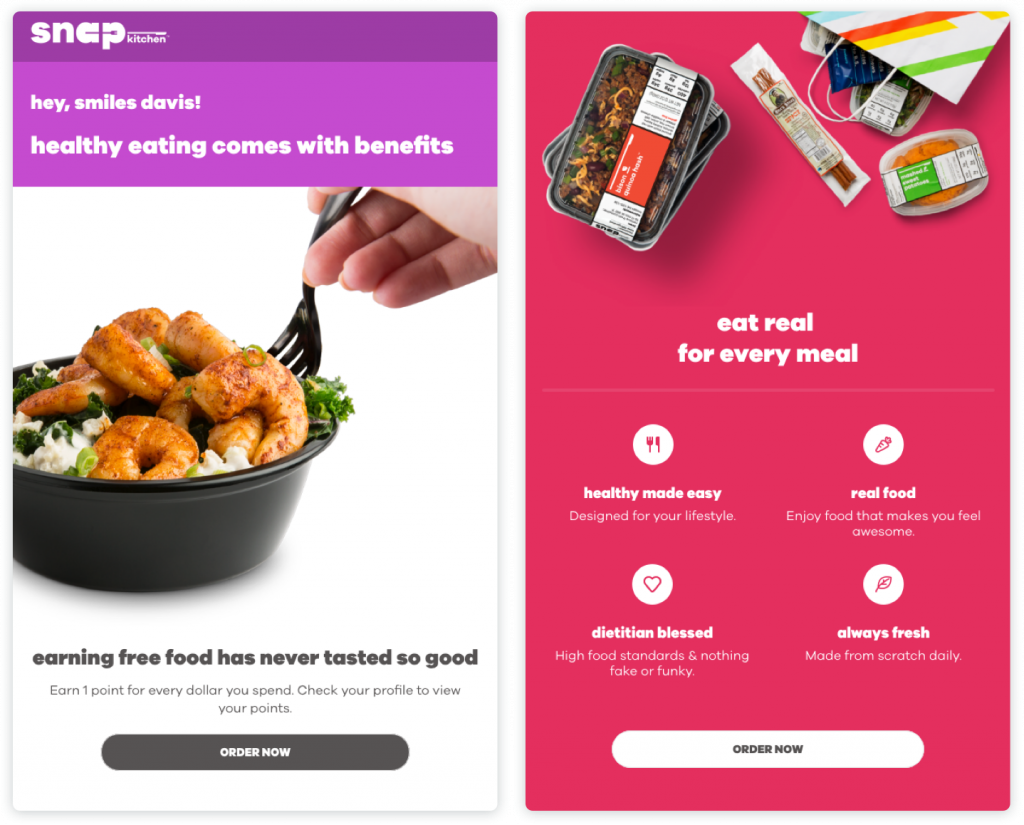 It's common for marketers to send a retention / re-engagement email to avoid losing a subscriber due to lack of engagement or interest. The goal of these emails is to recapture the rapport you developed with a reader by reminding them why they joined your list in the first place. To do this, you'll want to deliver an engaging experience that commands their attention and prompts them to dive further into your marketing funnel in some way, shape or form even if it's just to engage with content. 
Snap Kitchen, a meal delivery service, put together a stunning example of a re-engagement email designed to spell out the benefits of their offerings and their overall value proposition as a brand. The email is well done because it's actionable, informative and most importantly: relevant.
2. Subject: Tips to Reset Your Schedule for Better ZzZzZ's
An Engagement Email Campaign from Casper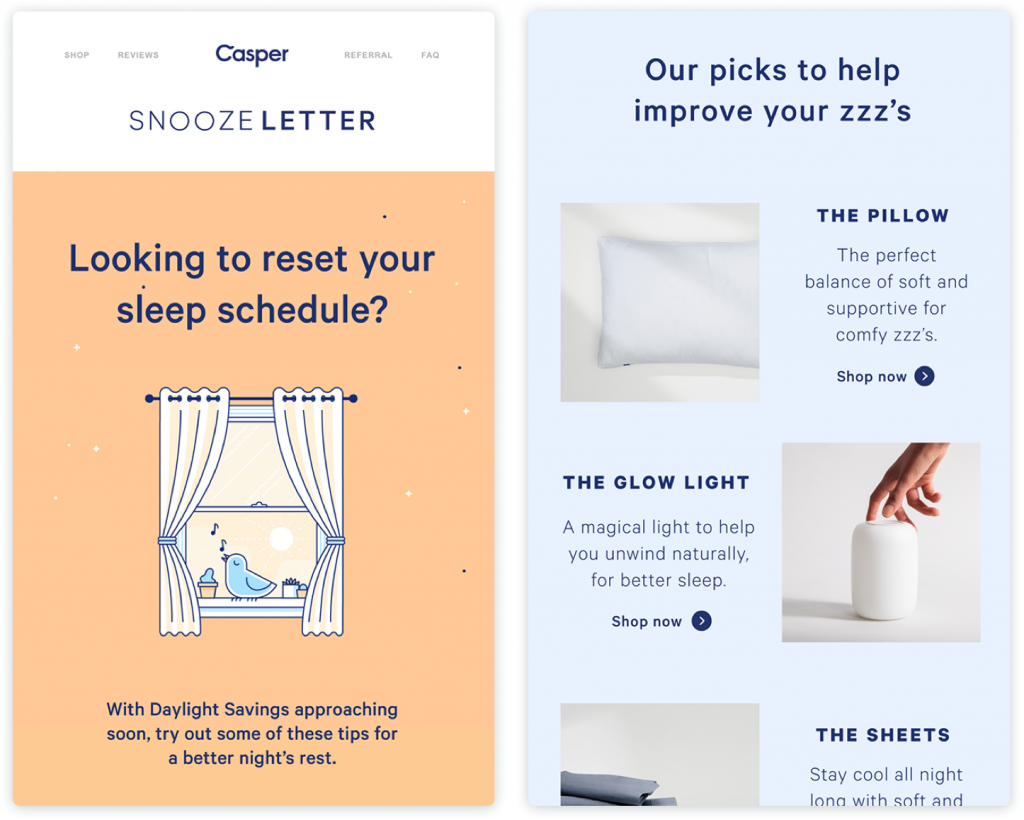 Engagement emails focus on creating more opportunities for your subscribers to interact with your brand. Whether you decide to use the email to feature product, blogs, quizzes, or other interactive concepts, these types of emails are ideal for sparking a connection with your subscribers. 
Renowned mattress brand, Casper, utilized this email format to create a useful campaign with content for their subscribers about sleep health and hygiene. The brilliance of this campaign is that its focus is so naturally connected to their product offering and overall bottom line in a way that makes it really easy to engage with the content.
3. Subject: Hot, Liquid Sand
An Ecommerce Sales-Focused Email Campaign from East Fork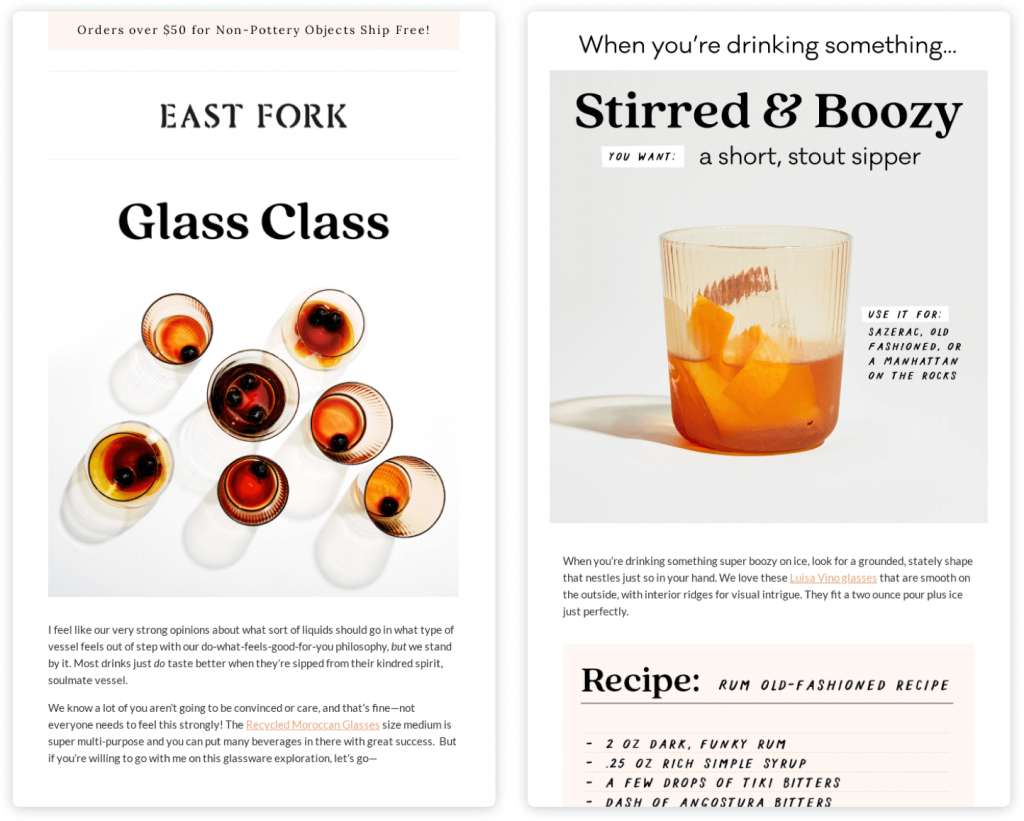 There are no shortage of ways to get creative when developing a sales-focused email to promote your products and services. Here, pottery and homegoods company East Fork delivers a well-designed sales email that communicates the breadth and depth of their offerings and why the reader should be interested. 
Throughout the email there are clear CTA's as well as a centrifugal focus that anchors the campaign and the customer into a well-thought-out product story that elevates the brand effortlessly.
4. Subject: Price Drop on Your Favorites!
An Abandoned Cart Email from Columbia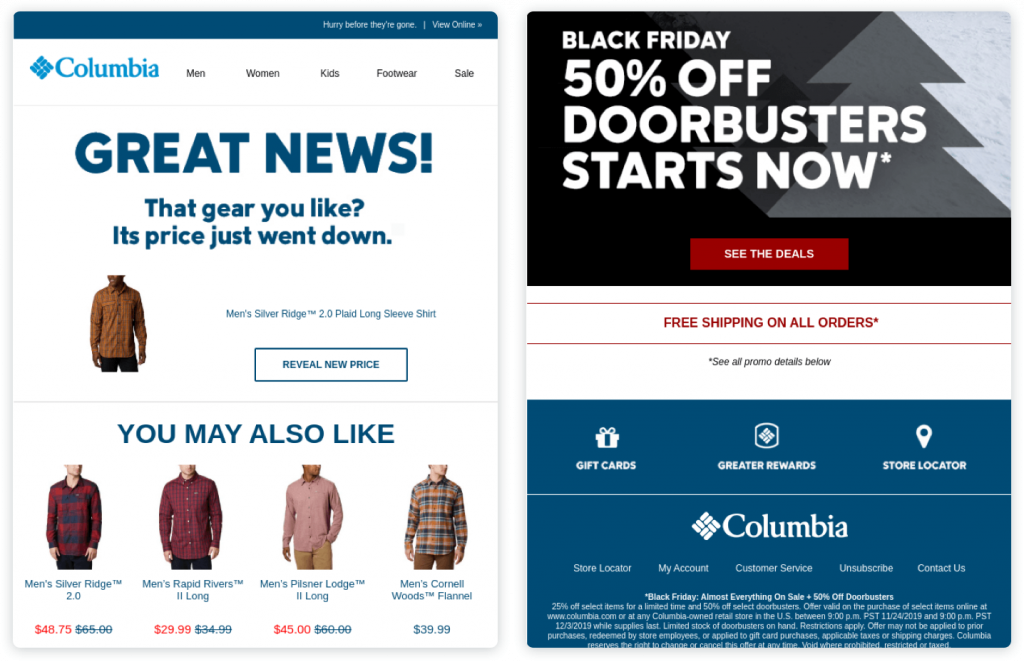 For ecommerce companies, abandoned cart emails are critical email automations used to close a sale with users who have not yet completed their order on your site. Typically, the best abandoned cart emails will have action-oriented copy and some sort of sales incentive to draw customers to commit to make a purchase.
In the example below, iconic outdoor apparel company, Columbia, does a stellar job at hitting all the touch points that would make a customer consider re-initiating their purchase.
5. Subject: A Special Surprise to Say Thank You
A Thank You Email from Sprint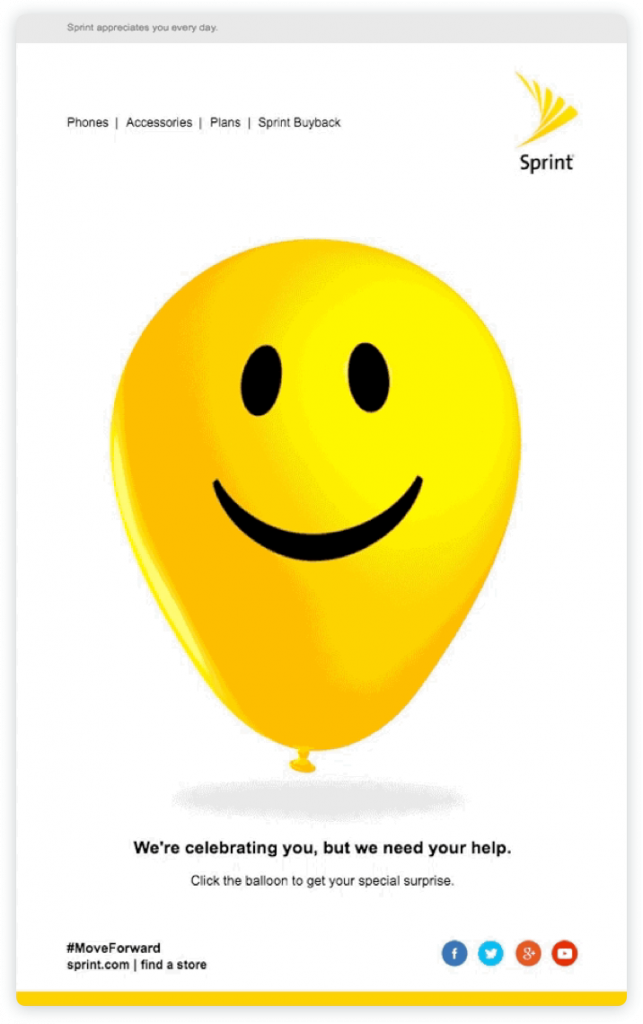 Subscriber / customer thank you emails are a relatively easy way to engage your audience and share your appreciation for their support. Sprint took this concept one step further by adding a special surprise for subscribers to discover upon opening and then clicking through to the landing page for the email.
6. Subject: What Did You Think?
A Survey / Feedback Email from GFDA (Good F*cking Design Advice)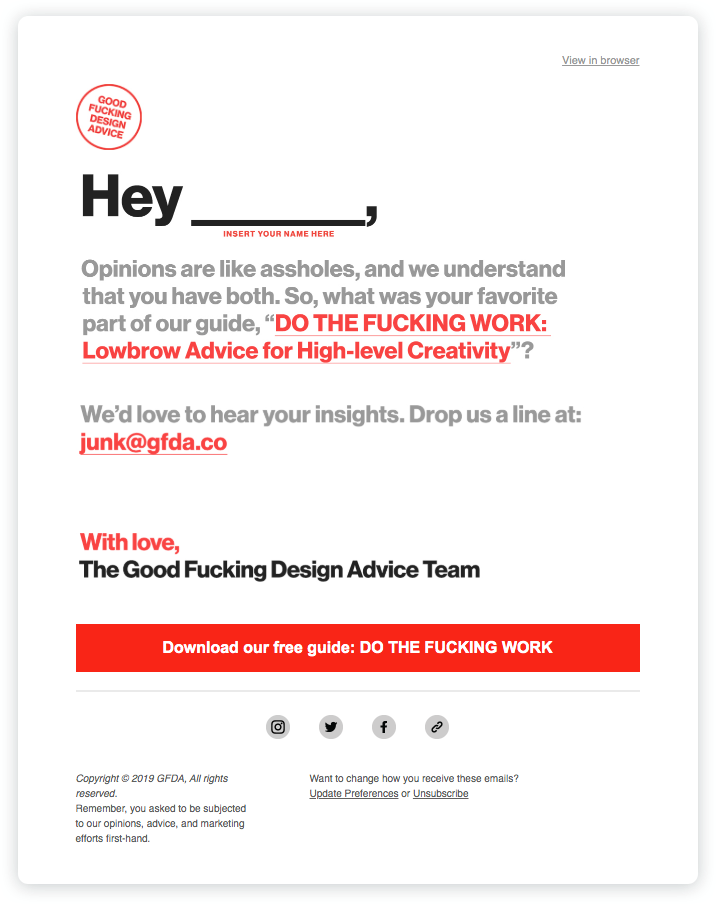 Feedback / survey email campaigns are ideal for receiving valuable insights directly from your customers on what's working for them and where your company needs improvement. But they also demonstrate how much you care about your customer experience and that you are serious about how you can grow as a business. 
Design agency GDFA put together a funny, simple, and very on brand feedback email to retrieve insights on a piece of gated content they created. Ultimately, this email is successful because of how focused, engaging and direct it is.
7. Subject: You're Nearly There
An Abandoned Cart Email from Virgin Atlantic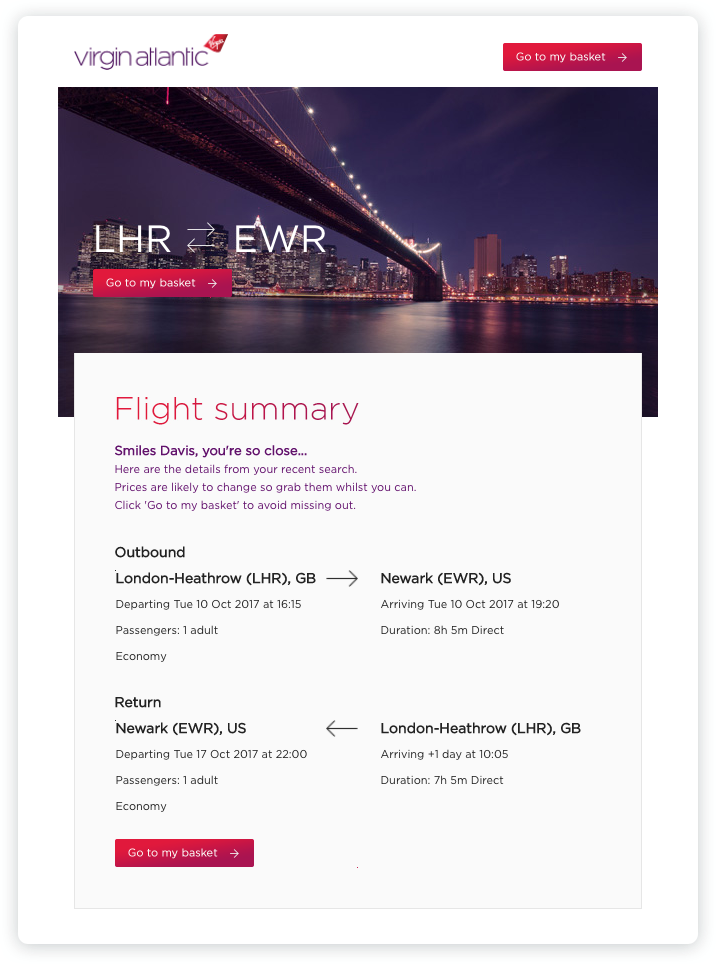 What makes this abandoned cart email from airline Virgin Atlantic work so well is the eye-catching title and its simplicity. With cart recovery emails, your goal is to keep your message as streamlined as possible and entice your reader to make their way back to whatever it is they left behind in their cart. Plain and simple.
8. Subject: Have You Been Adulting?
An Engagement Email from Who Gives A Crap TP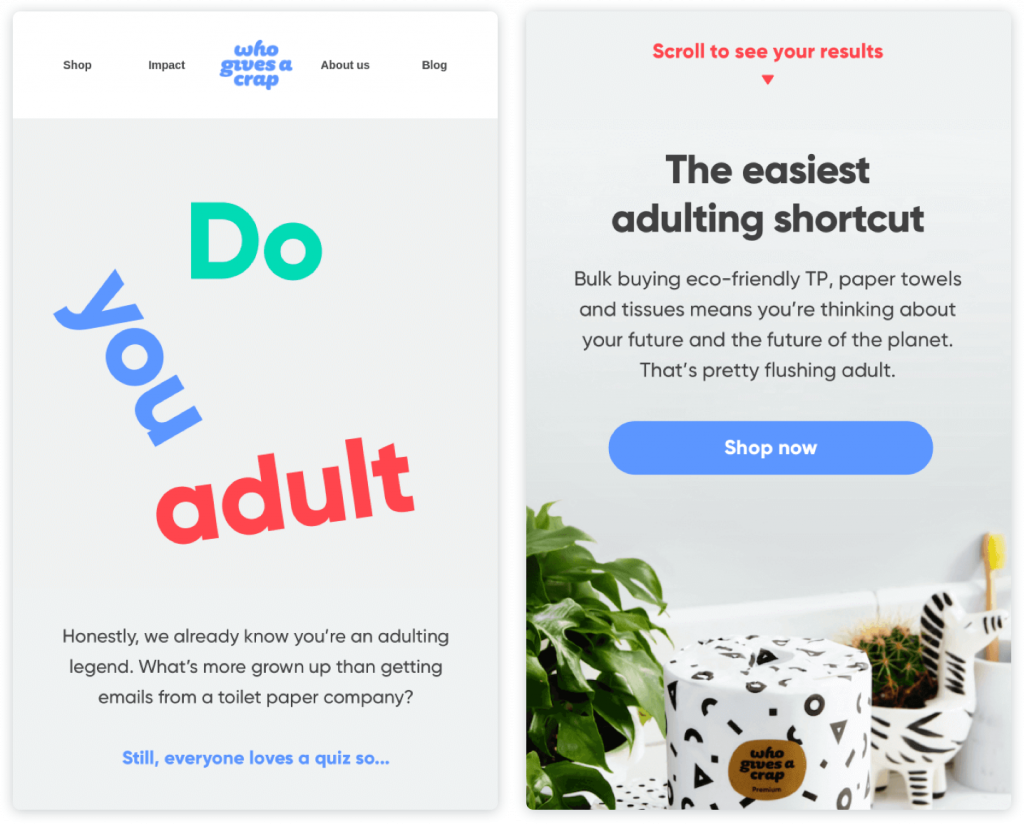 An Engagement Email from Who Gives A Crap TP
Engagement emails can take many forms. But remember, the overall goal is to entertain your audience and persuade them to interact with your brand in some fashion.
Below Who Gives A Crap TP, a toilet paper company from Australia, demonstrates a unique campaign concept featuring a quiz on a topic that just about every adult can relate to.
The brand also successfully utilized the email to include other points of engagement that lead to their blog as well as their product, which is a solid strategy to increase website traffic.
9. Subject: Welcome to Danner
A Welcome Email from Danner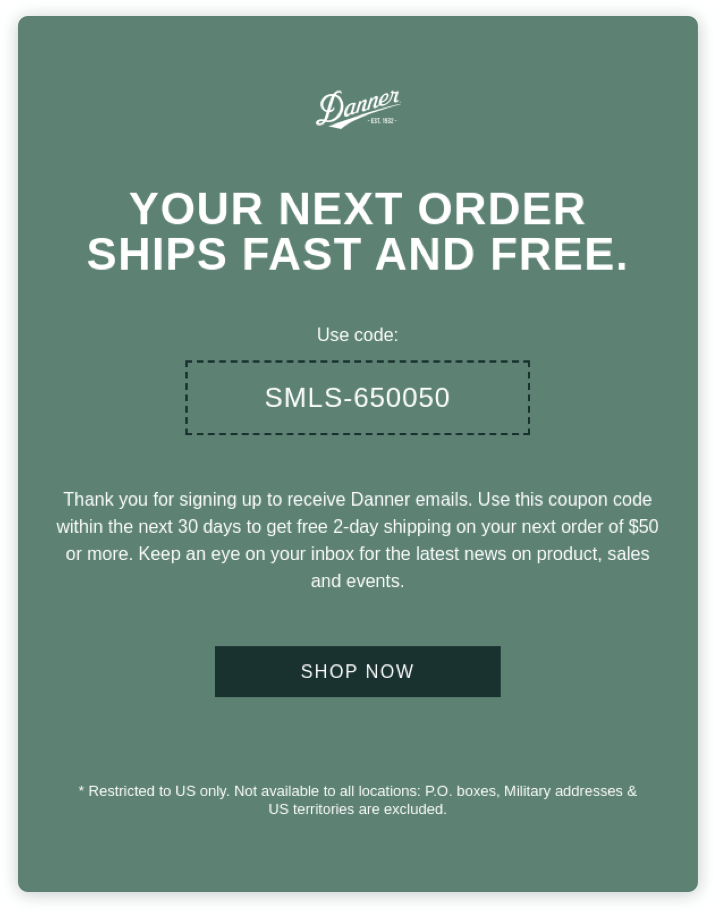 As the first email a new subscriber to your list receives, welcome emails are one of the most important types of emails to build, sustain and optimize. Reason being: they seamlessly provide a warm experience for new subscribers who join your list and give marketers the space to promote their products, services, content and any sales incentives or promotions. Plus, according to Statista, 84% of B2C welcome emails are successfully delivered to inboxes worldwide and have a read rate of 23%. 
For Danner, a hiking shoe company, based in Portland, OR, they developed a simple but enticing welcome email with a 2-day free shipping promo designed to convert new subscribers.
10. Subject: Do You Know What You're Getting Into?
A Follow Up Email from Rock Candy Media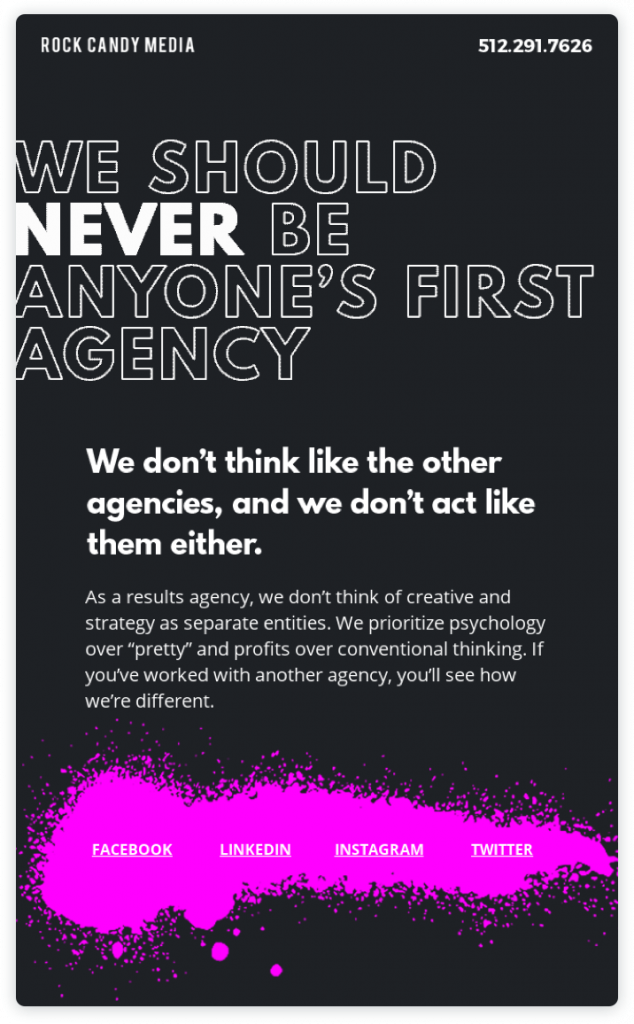 Follow up emails are essential for marketers looking to secure a lead or push a prospect further into your marketing funnel. In this example, Rock Candy Media, an Austin, TX based agency, put together a compelling concept that cleverly speaks to the back-and-forth involved with the process of securing a potential new client after they've made their initial pitch or during the process of negotiations. 
And while this campaign wasn't created by an ecommerce company, it is a solid example of how ecommerce brands can effectively address pain points along their customer's path to purchase journey. 
Overall, if executed well, a campaign strategy and format like this can organically bring your brand back to the forefront of a prospect's' mind, and provide you as the sender with an opportunity to communicate what sets your brand apart from the competition in a way that really grabs their attention.
In Search of Email Marketing Campaign Inspiration & Strategy? Let Us Help!
Book a call with us today to talk about your email marketing goals and recommendations for your next set of impactful email marketing campaigns.