B2B Ecommerce Trends to Watch Right Now
Get the scoop of what's hot in B2B ecommerce today, so you don't fall behind in this quickly growing and evolving landscape.
A decade ago, it wasn't normal to order take-out, groceries & car rides on our smartphones, and a decade before that, a majority of people didn't even own laptops or computers. What was once considered normal has quickly changed over the past couple of decades, all thanks to the exponential growth of technology. The B2B buying & selling process has been reinvented by ecommerce, where many traditional approaches have either been retired or digitally transformed. We've gathered the most innovative trends being implemented in the B2B ecommerce space today, so you can learn how to adapt for the future. 
Ecommerce Becomes Inevitable for B2B
The recent pandemic has pressured previously offline B2B companies to go online. Research by Mckinsey found that more than 75% of B2B buyers & sellers prefer digital self-service and remote human engagement over in-person interactions. We used to think that ecommerce was best suited for smaller-ticket items, but recent studies have found that B2B buyers are making large purchases online. Over 70% of B2B buyers are open to making new fully self-serve & remote purchases above $50,000, while 27% would be willing to spend more than $500,000. Even after lockdowns are over, many B2B companies will continue to prioritize ecommerce, even implementing it as their primary sales channel.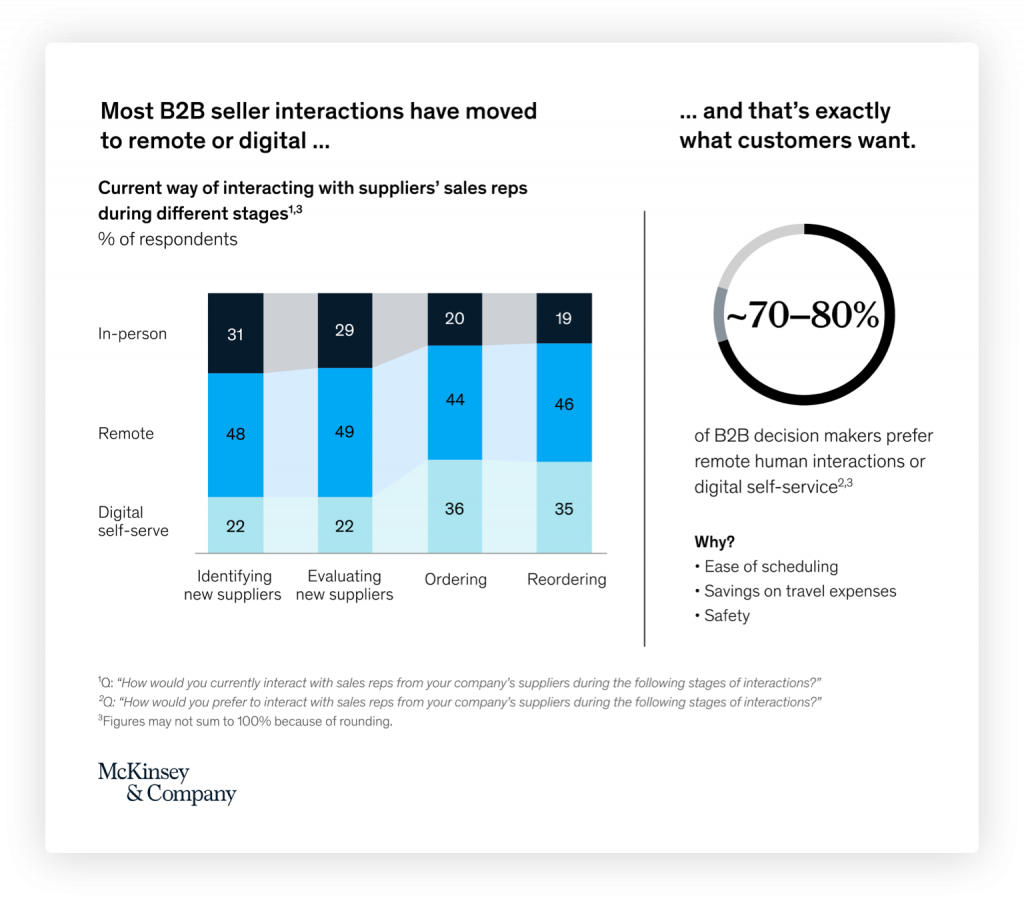 The value proposition of self-service from ecommerce is a vital element B2B companies need to focus on improving for 2022 and beyond. Many B2B buyers want a responsive and intuitive user experience during the ordering process. Companies need to implement features for buyers & sellers to view, manage, and approve orders without the need for additional emails or phone calls. Many B2B ecommerce platforms today offer tools & features that let B2B companies run their business online smoothly; read our blog, The Best B2B eCommerce Platforms & Why, to learn more.
Selling through Online Marketplaces & Niche Platforms
If there's any place a business should be, it would be wherever their customers are. Online marketplaces like Alibaba are made for B2B transactions, giving manufacturers, wholesalers, distributors the ability to access a massive pool of potential customers, allowing sellers to be found more quickly. Marketplaces allow buyers to filter by search criteria, compare prices, products, suppliers, delivery times, etc., making the buying process more efficient. 
B2B online marketplaces can take a lot of the heavy lifting out of a B2B transaction, offering a much smoother, automated processing of orders. For instance, Alibaba sellers can set dynamic pricing (configure ladder pricing, MOQs, and negotiate with customers), receive inquiries, process RFP's & RFQ's, accept a variety of payment options, and leverage Alibaba shipping or their own logistic provider. Online marketplaces are an excellent choice for sellers to expand their revenue growth channels without much upfront investment nor marketing of tapping into a new market.
Unlike giant marketplaces, like Alibaba, that take a horizontal approach of combining all types of industries and buyers, niche marketplaces operate vertically, providing a more specific and tailored user experience. What's great about niche marketplaces is that buyers have a common need, allowing businesses to reach a highly targeted audience. Since niche marketplaces are more specialized, it will enable emerging companies and new buyers to meet in a community focused on the same topic. This allows you and the buyer to foster confidence & trust for a stronger business relationship.
A personalized, tailored experience has always been at the core of a B2B transaction. The technology features in ecommerce have allowed companies to offer a rich, personalized experience for their customers. Online buyers are expecting personalization more and more, with 73% of B2B companies finding their customers demanding tailored experiences.
Basic features like product recommendations and automated, personalized messages are currently implemented by nearly half of B2B suppliers. There are tons of data points businesses can harness from customers online, but the ability to use this data and offer advanced personalizations will depend on the software and configurations that ecommerce platforms can offer. Companies can offer a catered experience that will make customers feel important and prioritized, leading to higher customer loyalty.
Artificial intelligence is going to impact every industry in the future, and it's already doing so. As the main driver for robotics, IoT, and Big Data, AI will significantly affect B2B ecommerce for the foreseeable future. Gartner predicts that by 2024, 75% of organizations will start to shift from piloting to operating AI-based technologies. Today, successful wholesalers, manufacturers, and distributors utilize AI-powered systems to quickly interpret data, find gaps, and identify solutions to improve their bottom line. 
The use cases of AI for B2B ecommerce are nearly endless. For instance, companies can use AI-powered chatbots that autopilot customer service to handle customer inquiries or problems at any time of the day, resulting in higher customer engagement & experience. As B2B companies generate more and more data, AI has the power to analyze huge datasets to find untapped insights and predict outcomes. AI-based technologies can offer targeted & personalized product recommendations, predicting what customers are likely to buy next. With more data comes more opportunities for AI to deliver powerful insights that help B2B companies to reduce inefficiencies and improve revenue growth.
Visual Commerce Experiences
The ability to see, touch, and feel a product is one of the most beneficial elements of in-person transactions. Now more than ever, ecommerce technologies are coming closer to achieving a similar, immersive experience. Technologies like augmented reality and 3D product configurators can deliver a deeply engaging, immersive customer experience. Augmented reality (AR) is software for an interactive real-world environment with computer-generated objects; The computer-generated objects can emulate what products look like in reality, and the viewer can interact with it, view it in different angles and more with just a smartphone. B2B companies can use AR to inform customers about products in a highly engaging way; text widgets in AR can guide customers on setting up, using, or diagnosing products.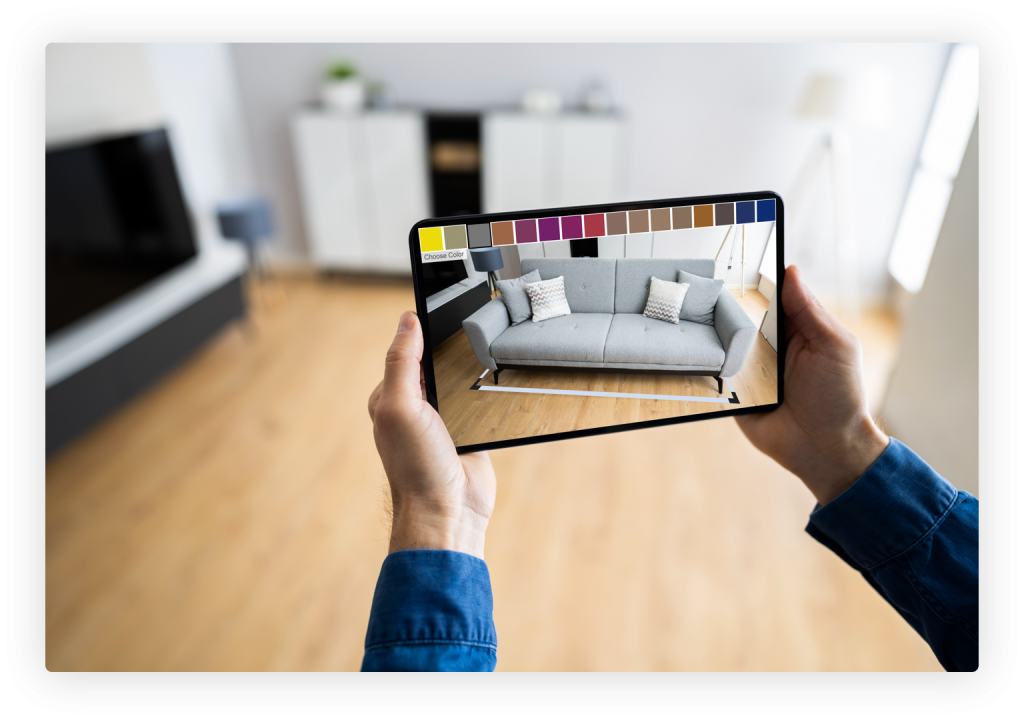 B2B companies can offer 3D product configurators for customers to personalize and interact with customizable products. Customers can use 3D product configurators to set the product specifications they need, like size, color, material, etc., and virtually see it live. The power of 3D product configurators are only limited to what configuration options are available – check out our blog, Reinvent the B2B Buying Experience with a 3D Product Configurator to learn more about the benefits of this technology. 
Features like AR and 3D product configurators are being adopted more and more as businesses recognize the profound impacts on their customer experience and internal business operations. Implementing AR & 3D product configurators both help customers to better understand the products they're purchasing while reducing the amount of labor from sales reps and customer support staff.    
For most B2B businesses, a single ecommerce platform is not going to have native features to meet the needs for every facet of your business. Third-party applications are often needed to manage orders, inventory, transactions, accounting, sales, marketing, and so on. Building integrations to connect the systems you have in place is critical to maintaining accurate data.
The benefits of integrations allow for frictionless information updates across multiple platforms, channels, and devices from centralized points. For instance, with ERP integrations, manufacturers and distributors can provide their customers with accurate supply chain & logistic information and other business updates. Many B2B companies will continue to make significant investments in ecommerce integrations as it makes business processes seamless.  
Time to Implement These Trends
Is your company currently hopping on any of these B2B ecommerce trends? The trends we listed in this blog are here to stay. So, if you want to have an advantage over your competitors, make sure you're investing into these strategies and technologies. If you'd like pro tips on how your company can implement all of the latest strategies, reach out to us!