For more than 45 years, GloryBee has provided one of the largest assortments of raw honey in the world to wholesale and retail customers. The team at GloryBee came to Above The Fray with a new vision for their ecommerce sites focused on improving their customer experience and reducing the strain on their customer service team. They wanted to create several microsites to support the various customer groups they served, improve organic rankings, and uniquely highlight their products and offerings. GloryBee was determined to find the right proactive partner who could help them take their vision and mold it into a strategic plan.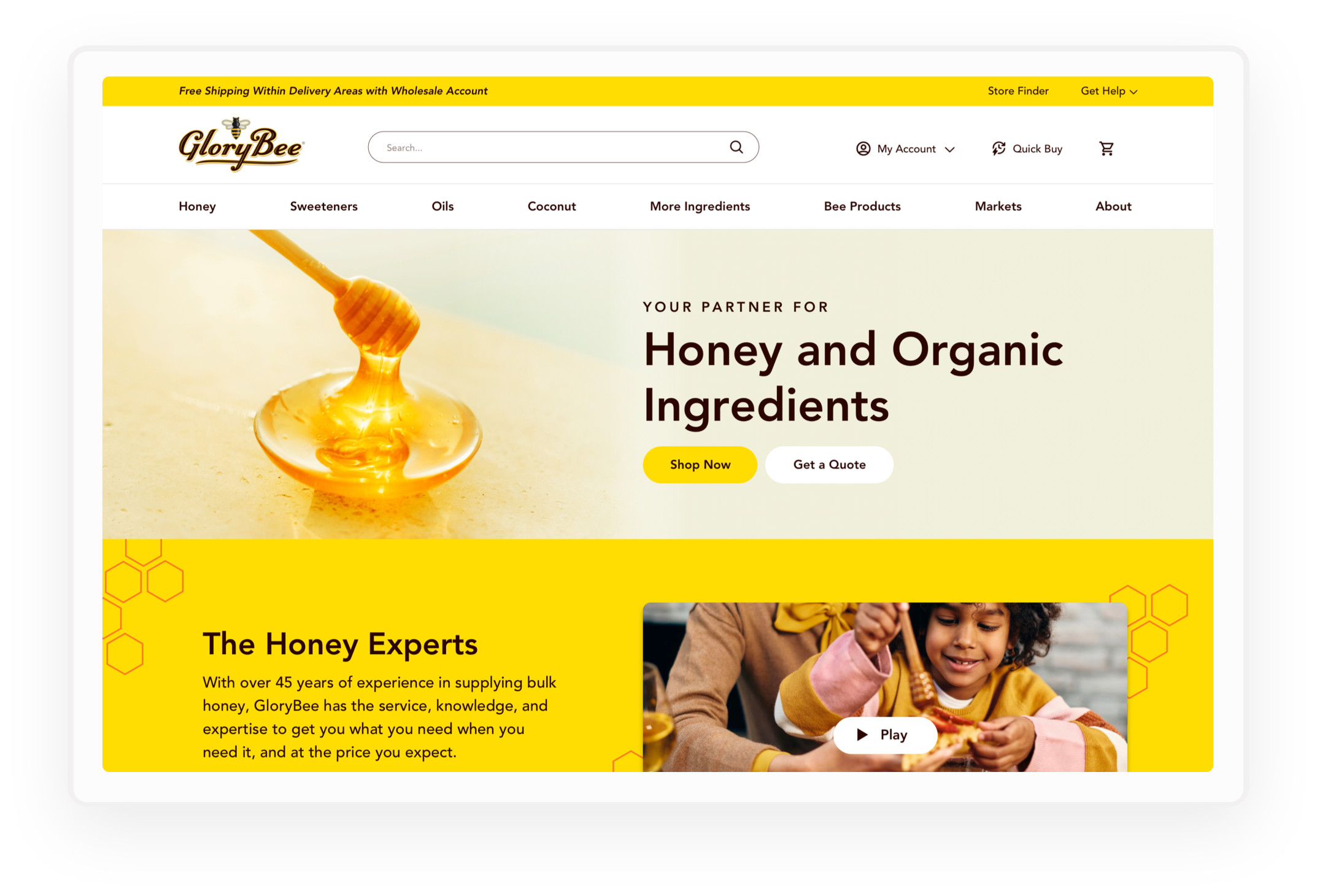 GloryBee recognized that their website was outdated and wasn't serving their customers well. Their primary customer group, their wholesale customers, made up the majority of the company's revenue source, but the main website was built for their retail customers and really focused on niche beekeeping and craft products rather than GloryBee's core product offerings.
The on-site experience was so bad that most of their wholesale customers weren't using the site at all, leaving  the customer service team bogged down by calls, emails, and requests that should have easily been handled by a functional B2B ecommerce site.
In addition to the poor functionality of the wholesale site, it was also difficult to get to. The wholesale subdomain was barely ranking in search and confusing to navigate to once on the retail site. GloyBee's vision to create several microsites solved for the goal to create a tailored experience for specific customer groups but didn't take into account the scope of work it would take to build dozens of unique sites or the fact that there would be no simple way to cross-sell to a customer that needed both honey and coconut products, for example,  if they existed on separate domains with separate carts.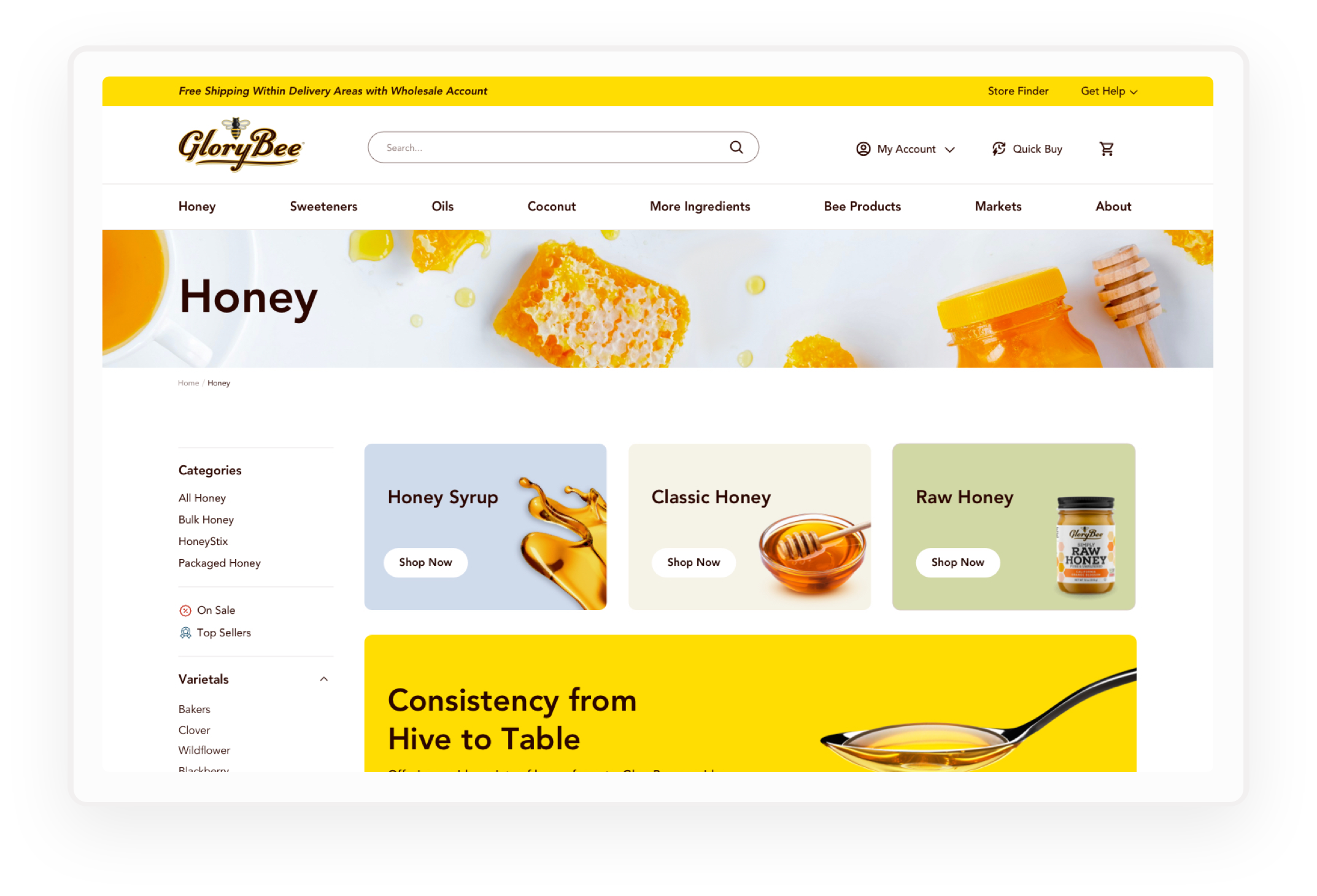 After conducting on-site interviews and workshops, fully understanding the goals and requirements of the project, reviewing analytics for both the retail site and wholesale subdomain, and extensively researching the merits of each of the potential paths forward, the team at ATF agreed that rather than redesigning the wholesale site and the retail site separately and building out several microsites, it would be advantageous to consolidate rather than expand. The new site would be designed and built with GloryBee's unique customer groups in mind and tailored to their different customer journeys.
By consolidating the two existing sites, GloryBee could maintain all of the organic authority they had earned over the years and use it  to reach a greater number of their primary target customers – wholesale buyers. The redesign modernized and simplified the shopping experience for every unique customer type that GloryBee serves and will continue to help them grow their online business and reduce strain on their staff.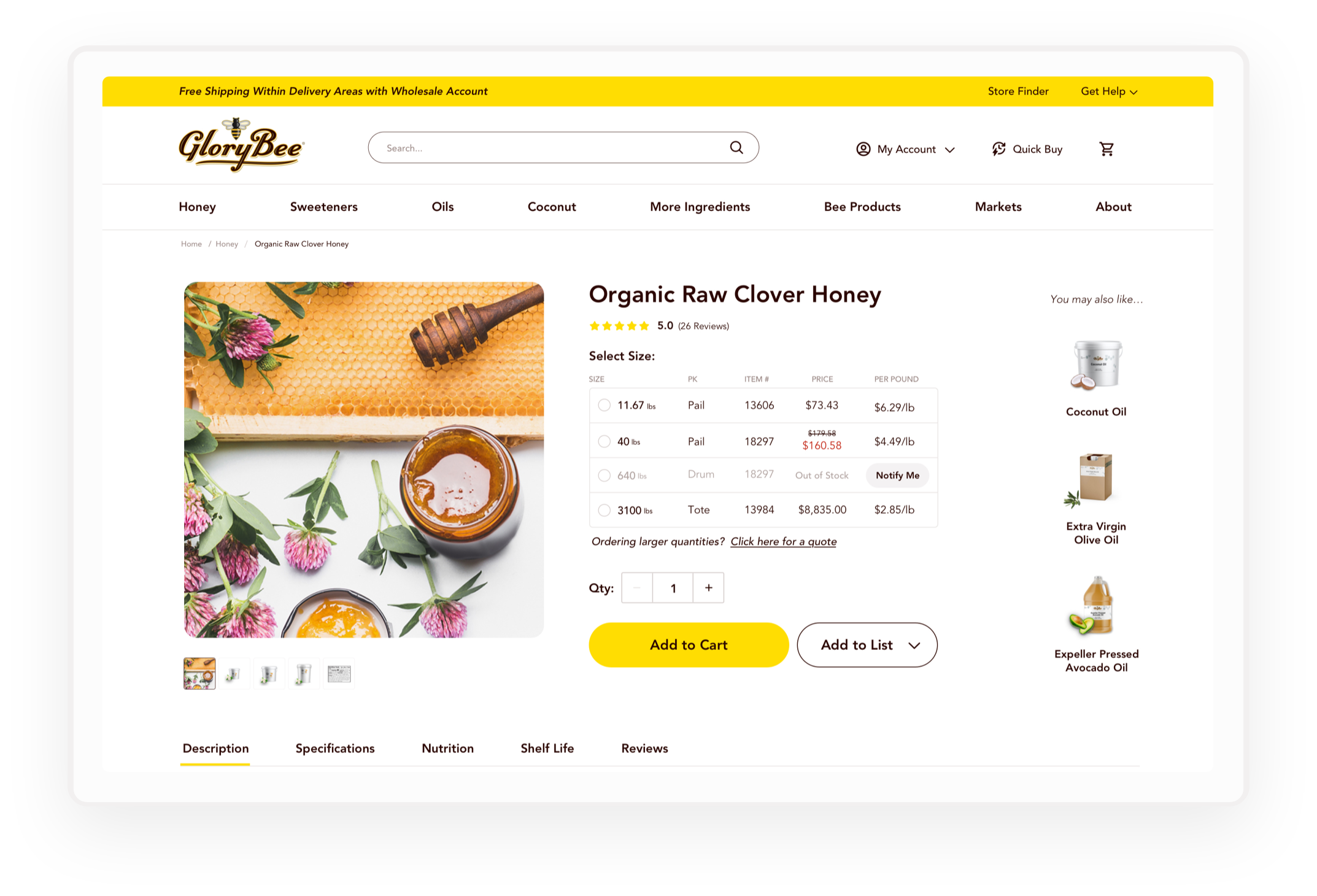 GloryBee can finally send their wholesale customers to their site with confidence now that the site has been redesigned and restructured to meet their unique needs.
Streamlined Information Architecture
ATF revamped the site architecture, optimizing categories and subcategories to enhance user navigation and search engine optimization (SEO). Implemented user-friendly mega menus to facilitate efficient browsing and quick access to desired content.
Content Rich Landing Pages
Developed compelling and informative landing page content to improve organic rankings and drive meaningful engagement on the page. Integrated high quality visuals with helpful keyword focused copy about the business and products.
Order Entry Tools
Intuitive order entry tools, including quick order functionality and requisition lists, were added to  empower repeat customers to effortlessly manage and reorder frequently bought items.
Merchandising Automation
ATF automated processes to revolutionize GloryBee's merchandising operations including  product catalog management, inventory control, and dynamic pricing and promotions.
Automated Payment Application
Enabled wholesale customers to conveniently apply for company credit and track the status updates directly within their account enhancing the efficiency of the credit approval process.
Simplified Customer Registration
Redesigned the customer registration process, providing a user-friendly interface that seamlessly caters to both wholesale and retail customers. Implemented automated backend systems to streamline the registration workflow, ensuring efficient processing and accurate data management.
Pre-schedule Wholesale Orders
Implemented a robust scheduling feature within the ShipperHQ system, empowering wholesale customers to pre-place orders and select future delivery dates. GloryBee admin users gained control over configuring delivery parameters and restricting scheduled orders to customers with specific terms.
Scaling up our security protocols to meet the demands of the business, and the times, was a vital measure we knew the company needed to protect ourselves and our customers from potential cybersecurity threats. ATF delivered the right approach and the right tools, empowering us with the vital systems and support we need to keep our website secure around the clock.
VIEW MORE WORK
Business and technology are challenging enough, why add unnecessary BS? Move on up to the front and drop us a line.
LET'S CHAT